Augmented reality (AR) glasses might one day replace the iPhone and any other smartphone, for that matter. But we're not quite there yet. It'll be years until Apple and other tech giants can offer such rich AR experiences inside headsets that look just like prescription glasses.
However, German start-up Tooz can already deliver basic AR experiences to a pair of normal-looking prescription glasses. It's not quite the futuristic AR experience you might be waiting for. And the glasses feature bulkier frames than your usual pair. But they're still very exciting, and they give us a peek at the future.
AR experiences on glasses have to start somewhere. The Tooz AR glasses I saw in Barcelona ahead of MWC 2023 provide one such concept.
The frames are slightly larger than regular eyewear to accommodate the battery, speaker, and tiny display that beams content directly into the lens in front of your eyes. But they're not too heavy, and you should have no problem wearing them all day.
Also, Tooz tech is compatible with a wide variety of lenses, including colored lenses and sunglasses. The company is targeting prescription glasses first and foremost, but it can easily be expanded.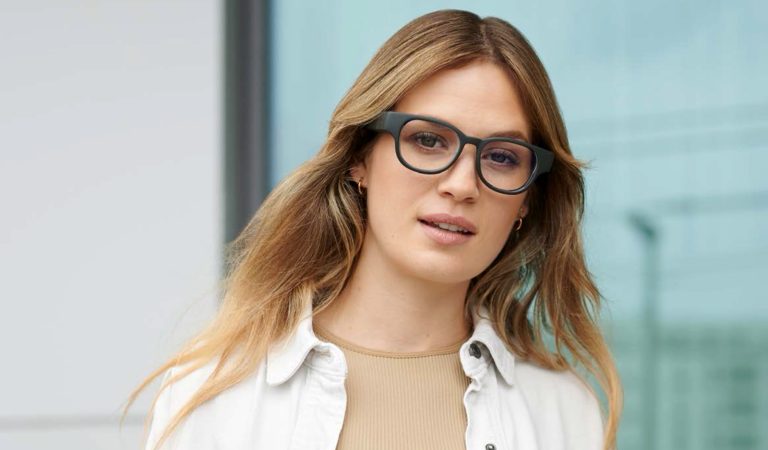 A person wearing Tooz AR glasses. Image source: Tooz
As for the AR experience, we're looking at basic functionality on the Tooz glasses. The demo I got included notifications for messages and calls showing up in the corner of the right lens, just as a voice would announce them from the speaker on the same side.
The images and text appeared in green, but they were not obtrusive. I could easily shift my attention to people and objects in my line of sight and disregard the AR elements that popped up on the glasses. I wouldn't need to linger for more than a second on the image being displayed on the lens. That's how long you need to see an app notification and decide what to do about it.
It's not the most sci-fi AR experience either, and it's not as pretty as you'd expect it to be. But the point is the Tooz AR glasses aren't supposed to be that. They're supposed to be an unobtrusive way to get zero-click information.
I was told the glasses could support navigation instructions like Google Maps as long as developers use the Tooz SDK to integrate support for such AR experiences. Any developer could bring AR experiences to Tooz glasses.
More impressive is the technology that makes it all possible. Tooz uses a tiny micro OLED display in the right corner of the lens. The glass optics then beam the image into the right lens, not the user's retina. The video at the end of this article shows it in action.
But Tooz doesn't sell glasses on its own. It can provide the lens technology to companies that would then manufacture prescription glasses. The lenses would work with various frame designs, depending on the company commercializing such products.
Check out the demo video below to see Tooz AR glasses in action.
TECH GADGET