ChatGPT is the most exciting thing happening in tech right now, and anyone can try it, provided the system isn't at capacity. OpenAI is struggling to make room for more users, hitting 100M active users faster than any product before. But if you want to make the most of ChatGPT and have it function similar to an app, you'll want to use it on the device you access the most, which means the iPhone or Android in your pocket.
In what follows below, we'll show you how to use ChatGPT on your iPhone and how to streamline your experience so you can access the chatbot with a shortcut, just like an app.
How to sign up for ChatGPT on iPhone
Since we did mention OpenAI being at capacity, we have to explain that all ChatGPT users need personal accounts. If you've already accessed the chatbot on an internet browser, you have an account ready. That means a username (email address) and a password.
But you can always create an account on your iPhone. Just load up Safari or your iOS browser app of choice and head to chat.openai.com. This is where you'll be able to sign up for ChatGPT unless the system tells you they're too busy.
You'll need an email address to use ChatGPT on your iPhone and anywhere else. And you'll want to set a strong password. The system will also verify your phone number before it lets you in.
Once that's done, you can access ChatGPT on your iPhone straight from the browser. The following clip should help guide you through the sign-up process:
What about a ChatGPT app for iPhone?
Unfortunately, there's no ChatGPT app for iPhone right now. Maybe OpenAI will develop one in the future. Until then, you can just bookmark the link in your browser or enter it manually every time you want to interact with the chatbot.
Remember, however, that the answers ChatGPT will provide might not always be correct. It's not as accurate as the regular version of Search, so you might want to double-check some of the facts the chatbot provides.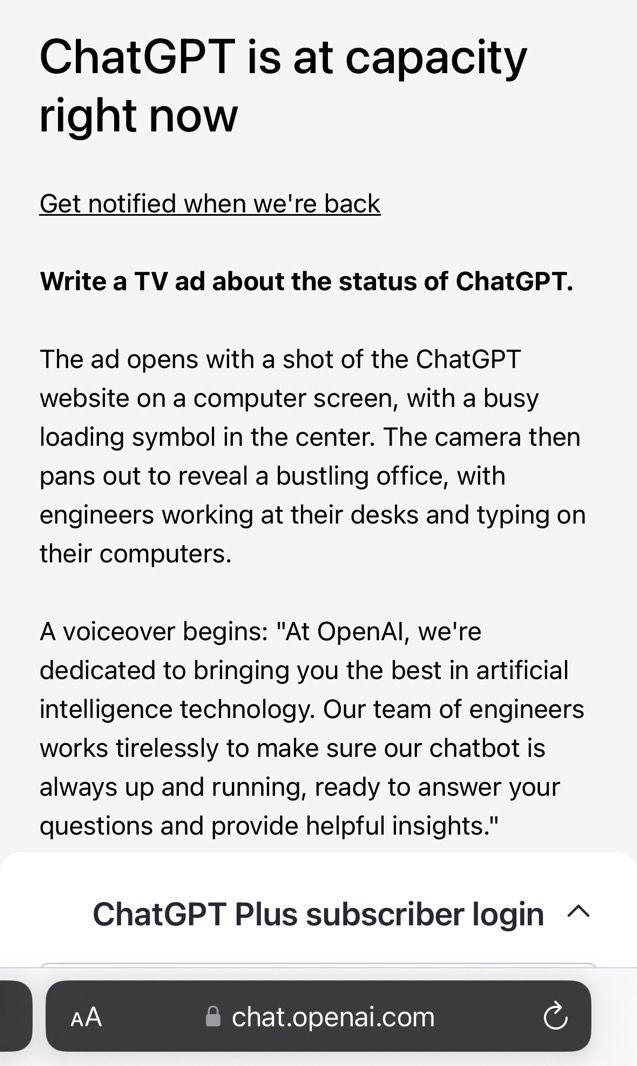 ChatGPT might be at capacity at times. Image source: Chris Smith, BGR
How to use a shortcut for ChatGPT on iPhone
While there's no ChatGPT app for iPhone, the good news is that you can create a shortcut for it relatively quickly. Fabian Heuwieser made an easy-to-follow tutorial, posting it on Medium a few weeks ago.
You can either replicate the steps as shown in the shortcut or just download the shortcut yourself.
You'll still need a ChatGPT account to create the iPhone shortcut. That's because you'll need your API key from OpenAI, and that's only available via an account.
Generating the API key is incredibly easy. All you have to do is log into your ChatGPT account and create an API key for the iPhone. This is where you can create the API key.
Once you retrieve that key, open the Shortcuts app and create the shortcuts just as shown in the screenshots that Heuwieser provides. An alternative is downloading the shortcut at this link. In case you download it, you'll need your API key handy.
As soon as the shortcut is ready, you'll be able to interact with ChatGPT on your iPhone without needing the browser. The shortcut will also work on Apple Watch, if you feel like you need access to the chatbot on your wrist.