Augmented reality (AR) was one of the big themes of MWC 2023. Devices that look like traditional prescription glasses but pack smart features, like overlaying digital objects over the real world and allowing you to interact with them. But AR glasses are still very difficult to make, which explains all the rumors saying Apple has postponed its hardware.
Make no mistake, AR glasses are very important and will eventually replace the iPhone. But none of the models I saw at MWC 2023 come close. Moreover, the only pair of AR glasses I'd recommend is the one that offers the simplest experience. And even those are hard to find.
Tooz AR glasses
The Tooz AR glasses tech I saw in Barcelona delivers augmented reality experiences to almost normal-looking glasses. But it's a very basic experience that will overlay notifications from apps on the right lens of the glasses via a wireless connection. And the content will not be beamed into your eyes but rather displayed on the lens with the help of advanced optics.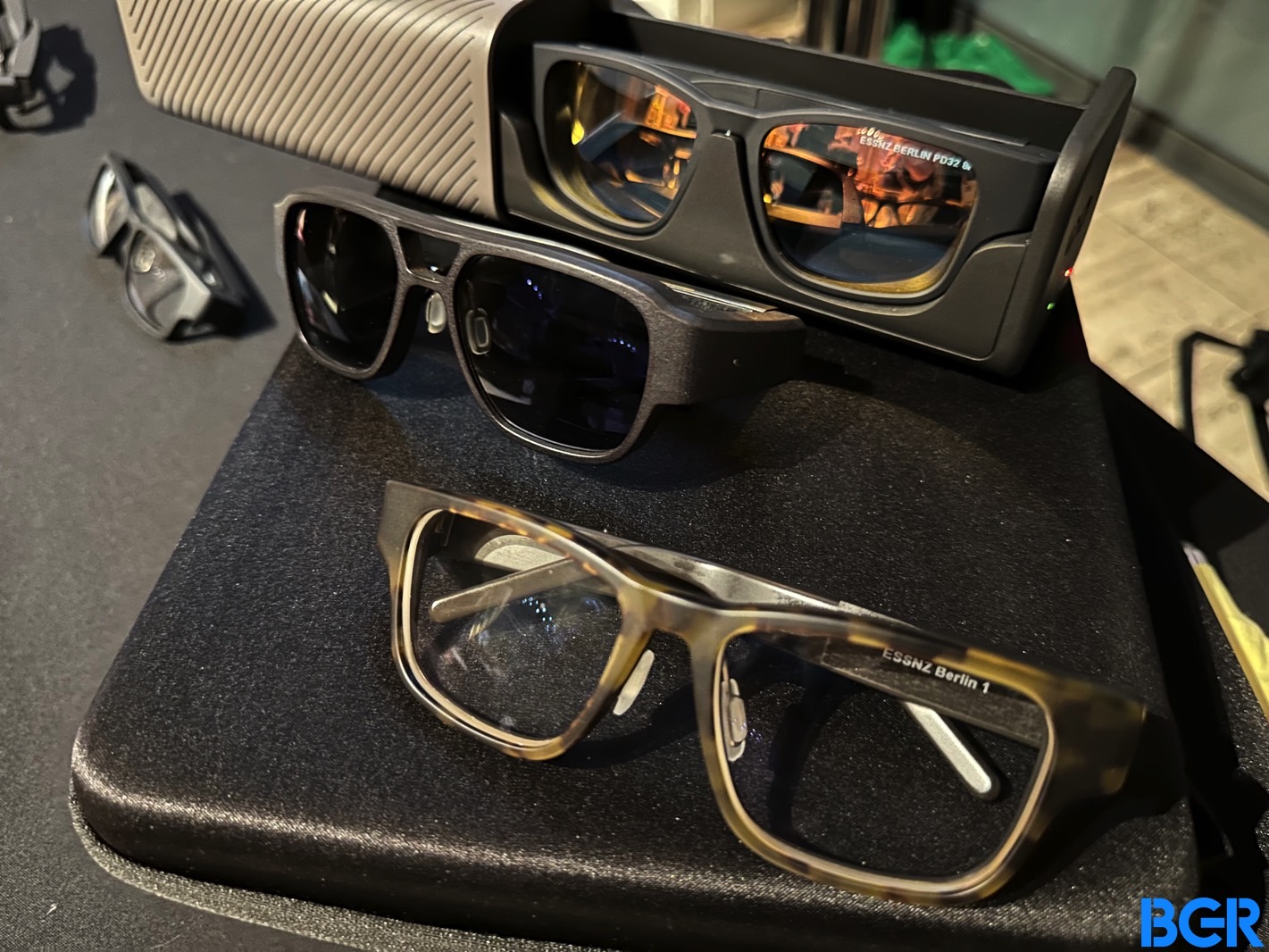 Tooz AR glasses concepts shown at Showstoppers in Barcelona, Spain. Image source: Chris Smith, BGR
Unfortunately, Tooz doesn't sell glasses on its own. Instead, it works with partners that can manufacture prescription glasses. Moreover, the technology currently targets people who already need prescription glasses.
TCL NXTWEAR S
First announced at CES 2023, the TCL NXTWEAR S appeared at MWC 2023, where I could take them for a ride. The glasses feature dual micro OLED Full HD displays that form a 130-inch screen at about 4 meters (13 feet) away. They also have dual speakers in the frame.
TCL NXTWEAR S AR glasses front view. Image source: Chris Smith, BGR
And they work with removable sunglasses-like frames to cover your field of view and correction lenses to correct sight issues.
TCL NXTWEAR S AR glasses: frame and rear view. Image source: Chris Smith, BGR
Once you start the experience, it does look decent. You can tweak the sound and turn 2D content into 3D. And the screen is bright enough to enjoy the virtual display.
But the NXTWEAR S needs a constant connection to a smart device, whether a phone, PC, or console. Otherwise, there's nothing smart about them. These AR glasses let you consume content on a virtual screen, and that's about it. And you'll have to pay $399 for the experience.
Also important to note is that they will eat battery life from the devices you connect them to.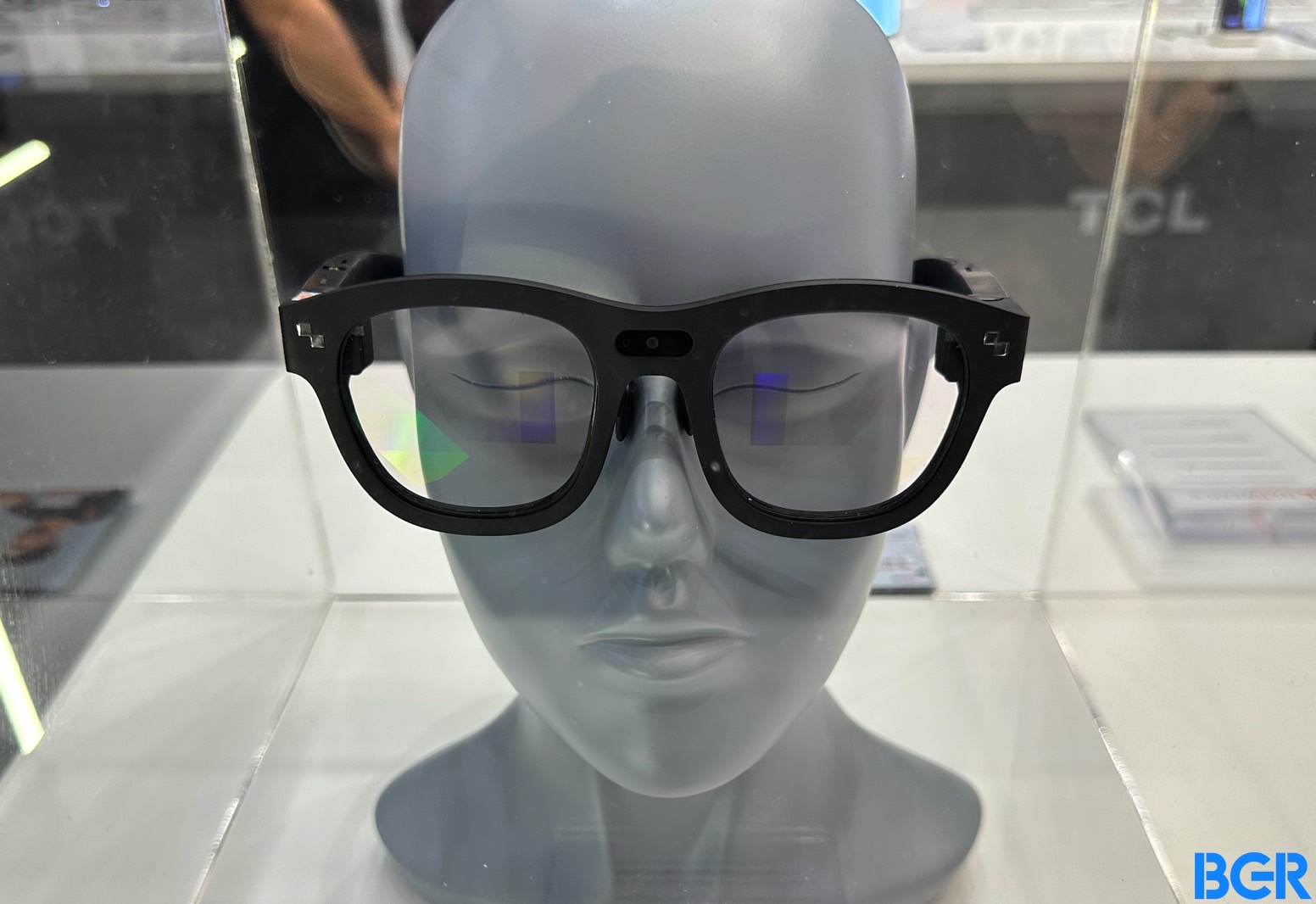 TCL RayNeo X2 AR glasses: front view. Image source: Chris Smith, BGR
TCL is also working on more advanced AR glasses that look a lot like regular glasses, the RayNeo X2. Also first announced at CES, they showed up at MWC as a prototype you can't test or touch. Much like Xiaomi's AR glasses that we're going to talk about below.
TCL RayNeo X2 AR frame is still quite thick. Image source: Chris Smith, BGR
ZTE's Nubia Neovision Glass
The Nubia Neovision Glass look like a fancy pair of sunglasses, but I wouldn't advise getting them when they hit stores in the coming weeks. We don't have a price for them, but the experience is hardly exhilarating.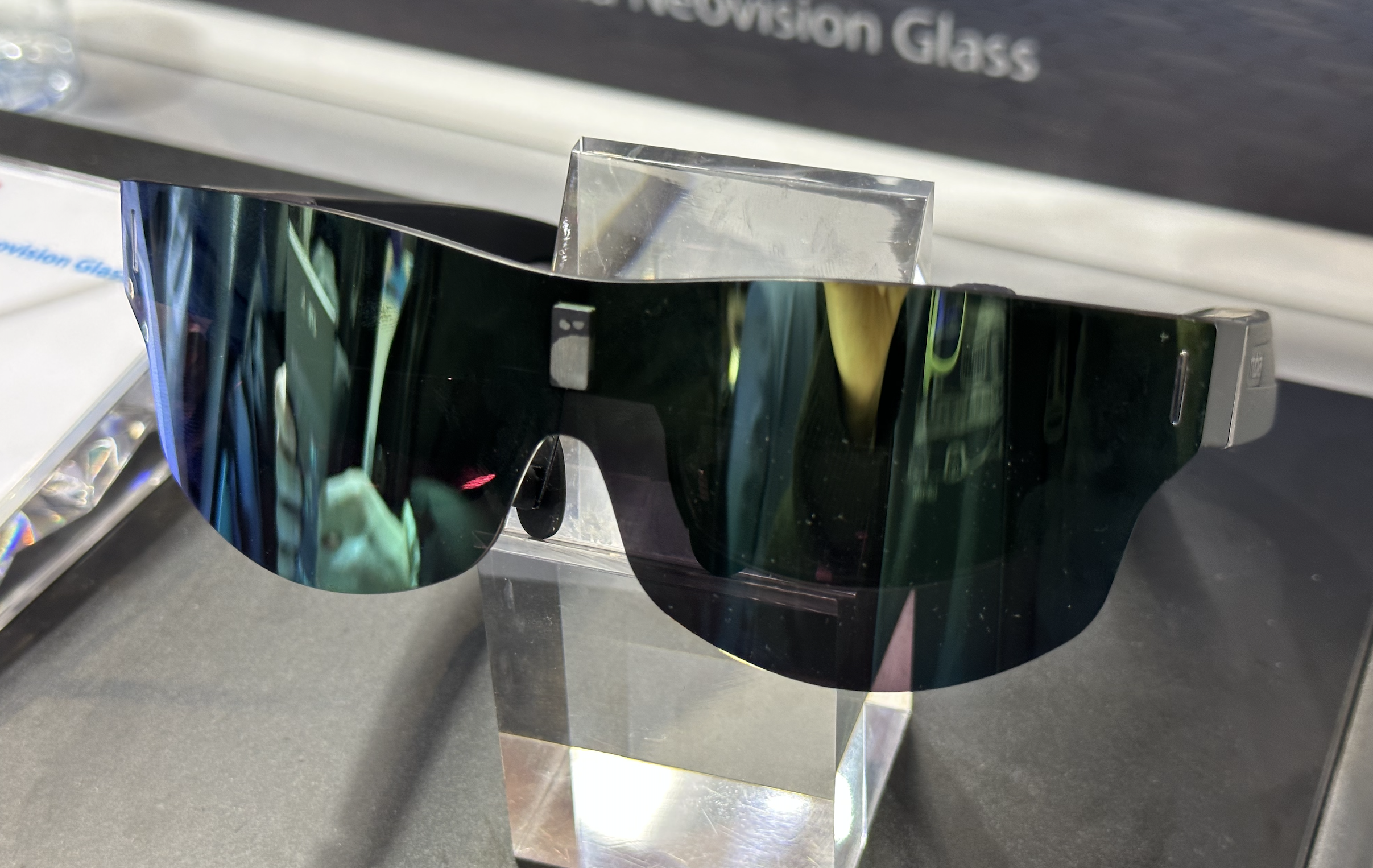 ZTE Nubia Neovission Glass have various interchangeable external lenses. Image source: Chris Smith, BGR
Like the NXTWEAR S, we're looking at a screen mirroring experience. You hook the glasses up to a device and enjoy the content. That's all you can expect from these AR glasses. But it was a worse experience than TCL's product, at least during my brief time with them. Obviously, ZTE has time to improve the product before it launches it commercially.
ZTE Nubia Neovission Glass: What they look like without the lenses. Image source: Chris Smith, BGR
Like the TCL AR glasses, the Neovision Glass doesn't work independently. They don't have any smart features that would turn them into must-have devices.
Xiaomi Wireless AR Smart Glass Discovery Edition
Finally, we have the Xiaomi Wireless AR Smart Glass Discovery Edition. Like the RayNeo X2, they were not functional at MWC 2023. But like the TCL product, these are closer to an early-generation AR glasses product that could deliver a more useful experience.
Both pairs would run on the Qualcomm Snapdragon XR2 platform. Therefore, they'll have their own chip, which is a big upgrade over the other devices. But they'll still need a direct connection to a Xiaomi gadget to work. It'll either be a wireless or wired one.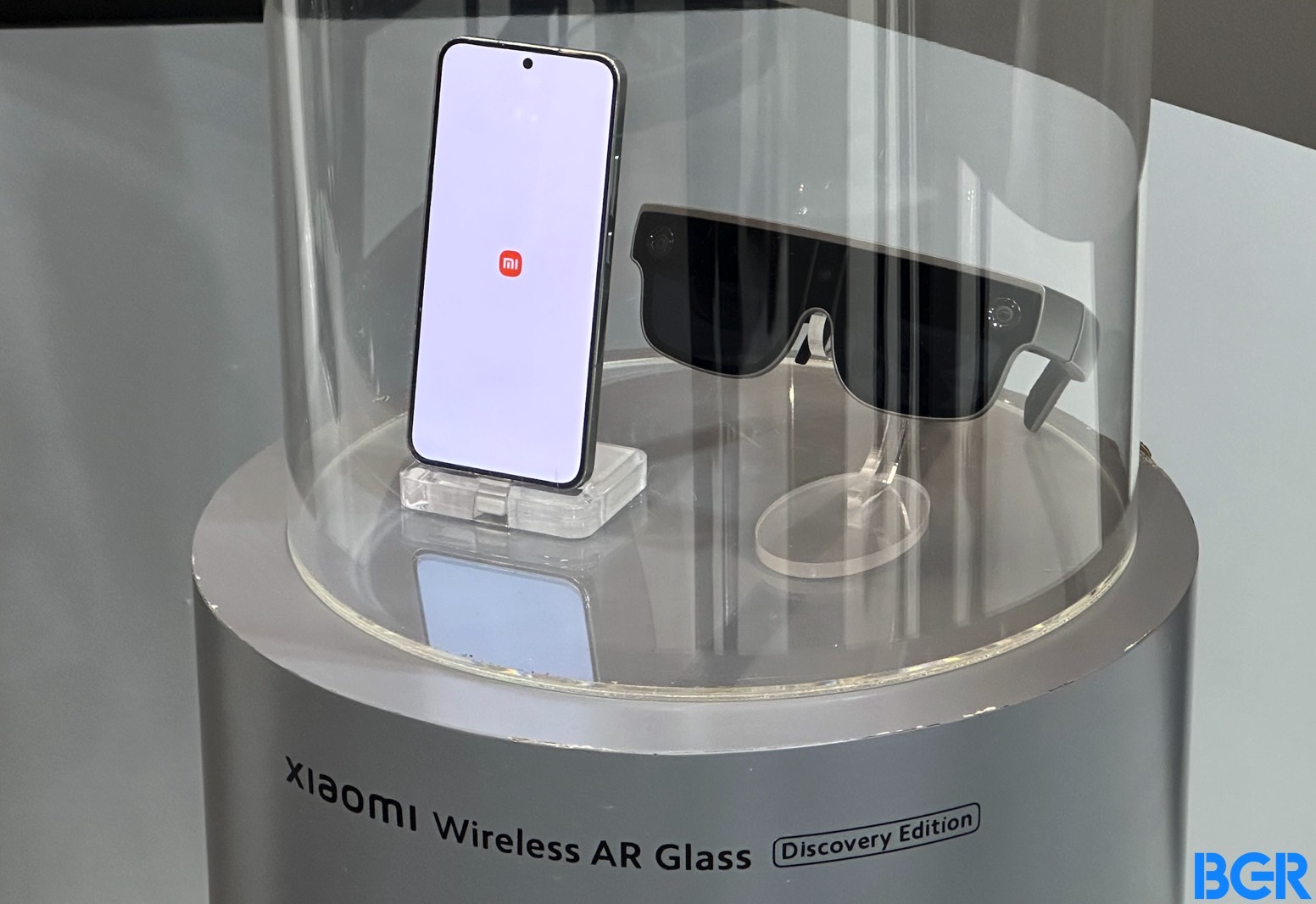 Xiaomi Wireless AR Smart Glass Discovery Edition prototype under glass. Image source: Chris Smith, BGR
I tried getting a demo of the glasses, but that wasn't possible. As you can see in the photo above, they were on display at the show. A Xiaomi rep walked me through the features. The AR glasses feature two micro OLED panels that offer Full HD resolution. They're Tooz glasses, the Xiaomi prototype uses prisms to project the screen in front of the user's eyes.
They're made of carbon fiber parts and magnesium-lithium alloy and feature a silicon-oxygen battery. What that means is that we're looking at a weight of only 26g.
The glasses also feature three forward-facing cameras that will detect hand gestures. But they don't have inward-facing lenses to capture eye movements. In addition to controlling apps, hand gestures will also let users interact virtually with other Xiaomi devices.
Despite the more advanced features, the Xiaomi AR experience still mostly consists in overlaying a virtual screen atop the real world. But one that's not available for testing at the time.
Like most other AR glasses from MWC, the Xiaomi model doesn't look like a pair of elegant glasses.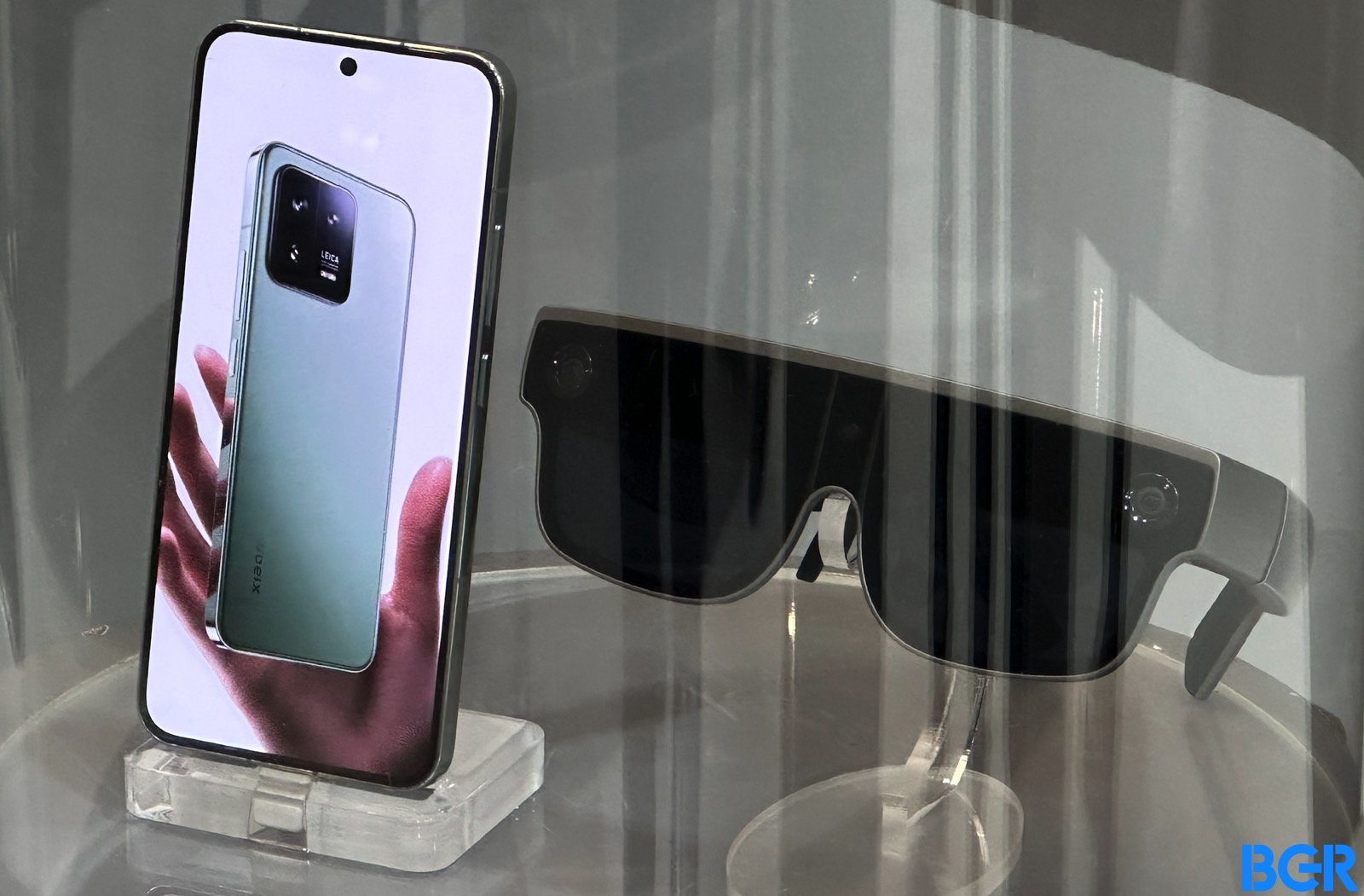 A closer look, but Xiaomi's glasses are still inside a glass enclosure. Image source: Chris Smith, BGR
With all that it's safe to say that the sci-fi AR glasses we want are several years away. And we definitely need these baby steps for the technology to advance. But the tech doesn't seem ready for successful commercial deployment. While I haven't tested the more advanced glasses, I'm certain I don't want any of them. As I am certain some of these companies can't wait for Apple to lead the way in the space.
TECH GADGET