Apple Fitness+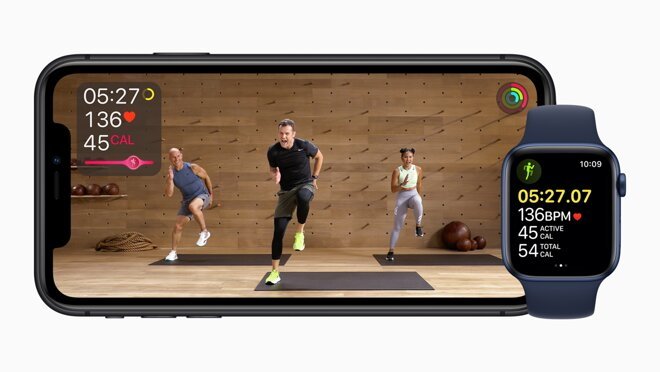 Apple Fitness+ now has over 4,000 classes on the service, and a profile of the studio reveals both a tech-heavy workflow and a push to reach more users as reasons why it's made so many at such a high pace.
Almost anyone browsing Apple Fitness+ will find a class suitable for their needs and interests, and that's because there are so many to choose from. To create so many classes in a relatively short timeframe, there needs to be both an optimal workflow for creation and a great team working with it.
In a visit to the Apple Fitness+ HQ in Santa Monica, California, Men's Journal writes about the process of creation for a class, as well as where it may be headed.
The main studio is "one massive room" that has areas and equipment for different workouts, rather than separate workspaces. Along with the brick backdrop, there's a sprung wood floor across the space.
To capture filming, there is a collection of 15 cameras, with 13 of them robotically controlled. Above the action is a "super dense lighting grid" that can illuminate the room.
The setup allows for a quick switch between setups for different workouts, with the equipment moving from a strength workout to a cycling class within 15 minutes.
On the floor are some camera operators, a director, and producers, who all interpret the requests for shots from the control room. Before recording, a preview is recorded with the instructor twice, before recording the main session.
The control room has more gear operators, making sure that directions are performed correctly for shots, handling callouts, and ensuring other important elements run correctly. One member marks aspects of the video when graphics for the user are displayed on-screen, which are triggered in the proper workout.
The human side
Jay Blahnik, Apple's VP of Fitness Technologies, told the publication that the idea for Fitness+ and its on-screen connection to the Apple Watch was based on the activity rings being very accessible to users.
"You may not be super sporty using the Workout app, but you're really excited about closing your activity rings all day, or you may be training for a marathon using the Workout app. And what we find is that people are able to use metrics in a way that motivates them on the Apple Watch," he said.
Adding on-screen metrics has been a very useful element for the service. "I think the single greatest thing that we've learned is that by having a view of yourself on the screen, as well as metrics that react to what the trainers say," Blahnik added. "It's incredibly immersive."
The service is also listening to its users when it comes to its changes, such as the addition of kickboxing workouts in January. Blahnik offers it was "because it was one of the workout types that was most requested by our users and we knew that a lot of people were also doing kickboxing workouts with their Apple Watch."
For future workouts and feature changes, Blahnik says it starts by answering "Can we do it in a way that can bring more people in, not just to this service but into that activity? And can we spend a lot of time thinking about how to do that really elegantly and that's always on our radar."
When asked more pointedly about what to expect in the future, Blahnik followed Apple's line of secrecy, offering the inconclusive quote "What can we do to make the experience even easier, smoother, something they can fit into their life more regularly."
This isn't the first time that Apple opened up Fitness+ to outside media. In 2022, it invited popular YouTube personality iJustine for a tour of the studio.
TECH GADGET