This is a sponsored article and all content and opinions expressed within are of the author.
Nobody wants to suffer from a poor connection. Whether you're on a phone call and the cell reception drops or you're trying to log onto your computer's Wi-Fi and can't seem to get a signal, it's a frustration that nobody enjoys. Upgrading your home connectivity can save you from the hassle and ARRIS has plenty of products that make upgrading easy.
ARRIS is a trusted name for routers, modems, and adapters. Boost the performance in your home for online streaming, gaming, or just working from home. ARRIS invented the first retail cable modem router combo, so its innovation is well-known. Here is more of what ARRIS has to offer, including special promo codes exclusive for readers.
ARRIS Modem Router Combos
ARRIS Modem Router Image source: ARRIS
If you're setting up your Internet service at home, you likely rent from the Internet service provider. But with your own modem, you can save money on the rental fee. With an ARRIS modem router, you can save up to $168 per year on modem rental fees.
Wireless networking is taken to a whole new level with the SURFboard Wi-Fi cable modems. The SURFboard G36 is a 3.1 Multi-Gigabit cable modem as well as an AX3000 Wi-Fi router. It can be used with Comcast, Xfinity, Spectrum, Cox, and other cable Internet providers. The DOCSIS 3.1 modern technology allows for 10x faster speeds than DOCSIS 3.0, which provides added security and less lag. This handles up to 2.5 Gbps of cable Internet speed. It also enables a multi-gig network for your home. This is only $328.78 right now but, thanks to the promo code 15ARRISBGR, it's only $279.46!
The SURFboard G34 is another terrific option from ARRIS. This also offers DOCSIS 3.1 technology and can be used with the same Internet providers. It handles up to 1 Gbps of cable Internet speed and has four 1 Gb Ethernet ports. The SURFboard G34 gives you up to 2,500 sq. ft. of wireless coverage and is only $169.06 with the promo code right now!
See Pricing
See Pricing
See Pricing
See Pricing
Cable Modems
Image source: ARRIS
For those looking for cable modems, ARRIS offers multiple choices that will fit your budget. The SURFboard S33 is approved by Xfinity, Cox, Mediacom, Spectrum, Suddenlink, and more. This will increase your network's capability and provide you with faster streaming and downloading throughout the house. With DOCSIS 3.1 technology and the ability to deliver up to 2.5 Gbps of cable Internet speed, you'll be able to accomplish any task quickly. It has one 2.5 Gb and one 1 GB Ethernet port. Get this now for just $133.45, thanks to a discount and the promo code.
There's also the SURFboard SB8200 cable modem that has DOCSIS 3.1 technology, two 1 Gb Ethernet ports, and handles up to 1 Gbps of cable Internet speed. Setup is incredibly easy, thanks to the SURFboard Central app. This is only $122.11 right now when you enter the promo code. For a cost-efficient option, the SURFboard SB6190 delivers DOCSIS 3.0 technology, one 1 Gb Ethernet port, and handles up to 800 Mbps of cable Internet speed. It's only $99.
See Pricing
See Pricing
See Pricing
ARRIS Mesh Wi-Fi Systems

Image source: ARRIS
You can maximize your Wi-Fi with an ARRIS mesh Wi-Fi system. The difference with the mesh Wi-Fi system is that it will adapt to where you are using the Internet inside the house and promote stronger connections. It eliminates dead zones and has built-in Wi-Fi 6. Get blazing fast Wi-Fi speeds with the SURFboard mAX Pro W133. This has a Tri-band design (2.4GHz/5GHz/5GHz High) that significantly reduces buffering and offers a high ping rate for gamers. A dedicated backhaul band connects the routers, slower devices and faster devices are relegated to the best band and it brings true Gigabit speed to your home. This handles Wi-Fi speeds up to 11 Gbps and it's down to $385.77 after the promo code.
The SURFboard mAX W121 is also a Tri-band mesh Wi-Fi system. It covers up to 5,500 sq. ft. and handles Wi-Fi speeds up to 6.6 Gbps. It's ideal for gaming, Alexa connectivity, and the app allows you to set parental controls. You can connect easily and each router has eight Wi-Fi 6 streams. This is down to only $169.15 today with the promo code. You can also opt for the SURFboard mAX Pro W31 if you have less room to cover. It reaches up to 3,000 sq. ft. and gives you one router with four 1 Gbps ports. It's down to just $154.45 with the promo code.
See Pricing
See Pricing
See Pricing
ARRIS Network and Gaming Accessories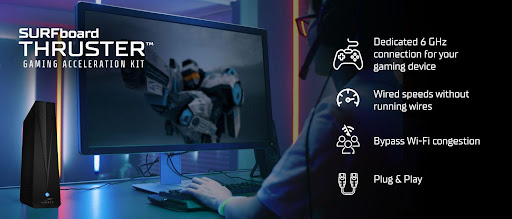 Image source: ARRIS
If you're a gamer, you know how important fast speeds and reliable connectivity is. ARRIS kept gamers in mind when it created the SURFboard THRUSTER Gaming Acceleration Kit. This upgrades performance for gaming without having to upgrade the entire system. It eliminates interference from other devices and outperforms the competition, thanks to the dedicated 6GHz connection. It has a 2.5 Gbps Ethernet port that lets you plug and play. You'll bypass any Wi-Fi congestion and won't suffer from any lag or buffering. It also has hardwired capabilities without the need to run any wires.
Add this to your gaming system for only $205.16 after you add the promo code. If you're not a gamer but want to upgrade your network, you can add in the SURFboard Wi-Fi 6E Network Upgrade Adapter. It transforms your home network into a Wi-Fi 6E network and allows you to connect more devices. This reduces lag and jitter and keeps your devices in sync with the latest technology, like 8K TVs and AR. Add it for only $161.50.
See Pricing
See Pricing
ARRIS is continuing its legacy of innovating at the highest level and it's passing on the savings to you. Visit the ARRIS Amazon store now to see all you can save on these great products and more.
To learn more about our sponsored deals and sponsored posts opportunities, please email sponsored@bgr.com.
TECH GADGET