There are two main reasons why someone might want to install a VPN on an iPhone. One important reason is to protect their privacy and increase their security. Another key reason is that a VPN can be used to make it look like you are based in a different country, which can unlock content that wouldn't be available where you actually are.
If you are concerned about how secure the data on you iPhone is a VPN may be a solution that could give you peace of mind. We have a selection of VPNs for iPhone that we recommend below. But first we'll quickly address why you might, or might not, want an VPN to protect the data on your iPhone.
Apple talks a lot about how secure iOS is thanks to built-in features such as strong password recommendations, iCloud Keychain password management, two-factor authentication, and the use of Face ID and Touch ID to unlock your iPhone and sign into websites and accounts. Apple lets iPhone users control whether information is shared with apps installed on their device and stop email senders getting details (such as location based on an IP address) when an email is opened. It is also possible to wipe an iPhone remotely if it is lose or stolen, and Lockdown Mode can be used to lock down an iPhone if you are the victim of a cyberattack (such as Pegasus, which hit the headlines in 2021). For details of other ways Apple protects your iPhone see our iPhone security tips.
Safari in iOS will protect you from malicious websites, stop you being tracked, and enable private browsing, and, as part of an iCloud subscription (from $0.99/£0.79 a month), iCloud Private Relay will encrypt your data and send it via a relay to hide your location and IP, and hide details of what you are browsing to prevent websites from being able to create a profile of you. This latter feature is similar to one of the benefits a VPN can offer–but it's important to note that it only works with Safari and it may not work within certain networks because it is identifiable as a proxy server.
A typical VPN won't prevent malware from attacking your iPhone, but it will encrypt your data so that nobody can spy on it; hide your iP address so that websites you visit can't identify you and create a profile based on your behavior; and, unlike iCloud Private Relay, it will do this whatever app you are using. As a result websites you visit can't track you; your internet service provider can't see what you're up to; and nobody can find out what you buy, where you shop, what you watch, when you go to bed and where you're going on holiday.
One of the most popular features a VPN can offer is the ability to hide the region you are surfing from. This means you can surf as if you are based in another country–and access content that would otherwise not be available to you. This opens up services such as U.S. Netflix for those in the U.K or BBC iPlayer for those in the U.S. (It's important to note, mind you, that using a VPN to get around geo-restrictions is usually against the terms and conditions of streaming companies such as Netflix, Amazon, and the BBC.)
While VPNs are a novel concept for many people, they are very simple apps to use and require no previous knowledge or technical expertise. It's as easy as launching the app, pressing the Connect button and then launching Safari or whichever app you want to use. For more information, we have a separate articles that explain how to use a VPN on an iPhone and why you might need a VPN on your iPhone. You might also want to check out our round-up of the best VPN deals, which we update monthly, just be aware that low prices for the first year of two are common, but a higher subscription price will kick in as soon as that offer period ends.
Best VPN app for iPhone
NordVPN
Pros
Excellent speeds
Good unblocking
Sensible price
Cons
6-device limit
No split tunnelling
NordVPN, one of the most popular names in the VPN market, is a great all-round service. It offers super-fast speeds thanks to its NordLynx protocol (based on WireGuard), and lots of servers around the world. And while there are cheaper options out there, Nord has a sensible price tag, including a hefty discount if you subscribe for two years.
It's adept at unblocking popular video streaming services such as Netflix and Disney+ and will, of course, unblock websites that you can't otherwise access.
Nord's iPhone app looks great and is easy to use. You can have a list of your favorite servers for even faster connection, as well as configuring the app so it connects to the VPN when your phone joins an unknown Wi-Fi network.
There's a kill switch on both iOS and macOS (and Android and Windows)–which will keep your data and location hidden even if the VPON stops unexpectedly). The only missing feature is split tunnelling, so you can't set it up so that only specific apps use the VPN. (Nord does offer this in its Windows and Android apps, but not on iOS.) But most people don't need to do that anyway.
NordVPN is based in Panama, which has stringent privacy laws. Plus it doesn't collect or store any information about how or when you use the service, so it would have no data to hand over even if authorities were to request it, which they won't. These claims have been audited, most recently in December 2022.
The service lets you connect to up to six devices at once and also has apps for iPad, Mac, Windows, Android, and Amazon Fire TV.
See all prices and plans at NordVPN.com.
Read our NordVPN review.
Surfshark
Pros
Great speeds
Unlimited connections
Extensive feature set
Cons
No IPv6 support
Privacy claims have not been audited
Sometimes you get what you pay for, but that adage can't be applied to VPN services… especially Surfshark. You might think it isn't as good because it's so inexpensive, but you'd be wrong.
There's a lot to like. The iOS app has a slick, simple interface which makes it easy to pick from one of the 3,200-plus servers on offer. That's almost double the 1,700 the company had a couple of years ago: it's constantly improving.
In fact, Surfshark has released new features on a regular basis, and is still one of the few VPN services to offer two-factor authentication. It doesn't put any limits on the number of devices you can use simultaneously either.
It will unblock streaming services, just like NordVPN, and has a few other handy features such as multi-hop which lets you route the connection through two VPN servers in different countries for another layer of privacy. Bear in mind, however, that it doesn't support IPv6. This means it will block all IPv6 traffic and force your devices to use IPv4.
Surfshark is based in the Netherlands, which is privacy friendly and has recently commissioned an independent audit of its no-logs policy, which found no issues.
The main drawback is that the subscription price jumps steeply upon renewal, so do be aware of this, as with all VPNs, which tend to offer low prices for the first year and then high subscription prices later on.
You can see the low price on Surfshark's website.
We also recommend reading our full Surfshark review for more details.
CyberGhost
Pros
Easy to use
Great speeds
Excellent value
Cons
No split tunnelling
Privacy claims have not been audited
As one of the longest-running and best-known VPN services, CyberGhost is another top choice for the iPhone, as well as for other devices. It offers tremendous ease of use, and great connection speeds thanks to WireGuard.
The service is particularly good for unblocking video streaming services. Cyberghost was able to unblock every streaming service we tried including Netflix, Disney+, as well as U.K. based BBC iPlayer and ITV X–in the past we problems connecting to these U.K-specific on-demand, but issues with both disappeared when we used a server specifically optimised for ITV. (You get a phenomenal amount of choice here. There are at least 7,100 servers available to connect to 91 different countries.
The service is headquartered in Romania, which is good for privacy as it is outside the 14-eyes group of countries that share intelligence, and the company has a policy of not keeping logs of online activity, a claim that has been audited by Deloitte.
See all prices and plans on Cyberghost's website.
Read our full CyberGhost for Mac review
Private Internet Access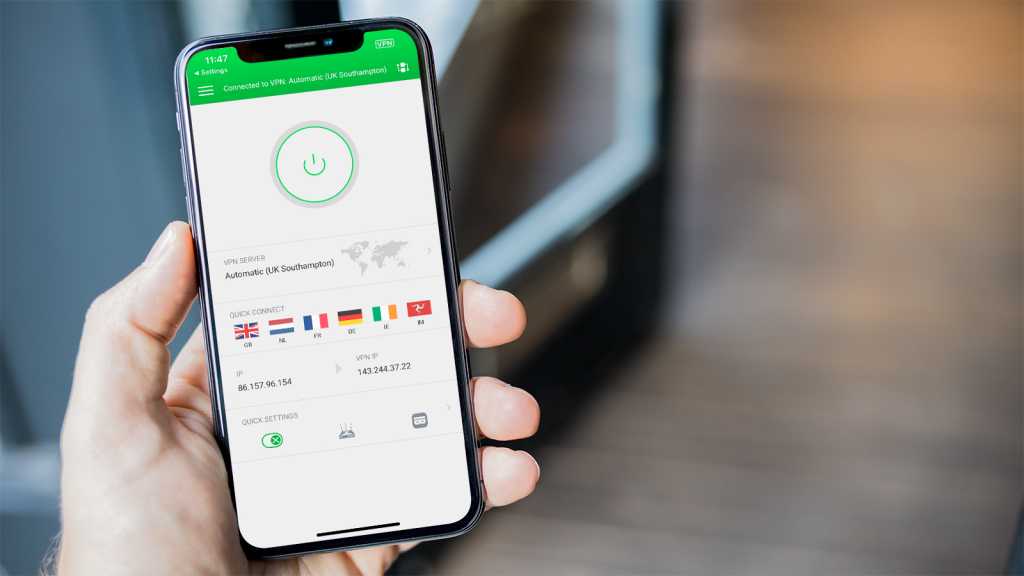 Private Internet Access (PIA) is a great value and feature-packed VPN service. It's not the fastest or cheapest out there, but it does have a heck of a lot of servers in 84 counties and is highly configurable.
It is based in the U.S. which isn't usually ideal if you want to protect your privacy, but it now has the reassuring Deloitte audit which makes its US location a non-issue. It's thousands of servers are set up well for privacy. You can even pay anonymously using cryptocurrency or gift cards.
It will unblock Netflix and more, but when we tried it didn't unblock BBC iPlayer so it isn't our first choice for unblocking streaming services, but it may unblock everything you need it to.
Like Surfshark, it allows you to have an unlimited number of devices connected at the same time.
See all prices and plans on Private Internet Access's website.
Read our full Private Internet Access review
ProtonVPN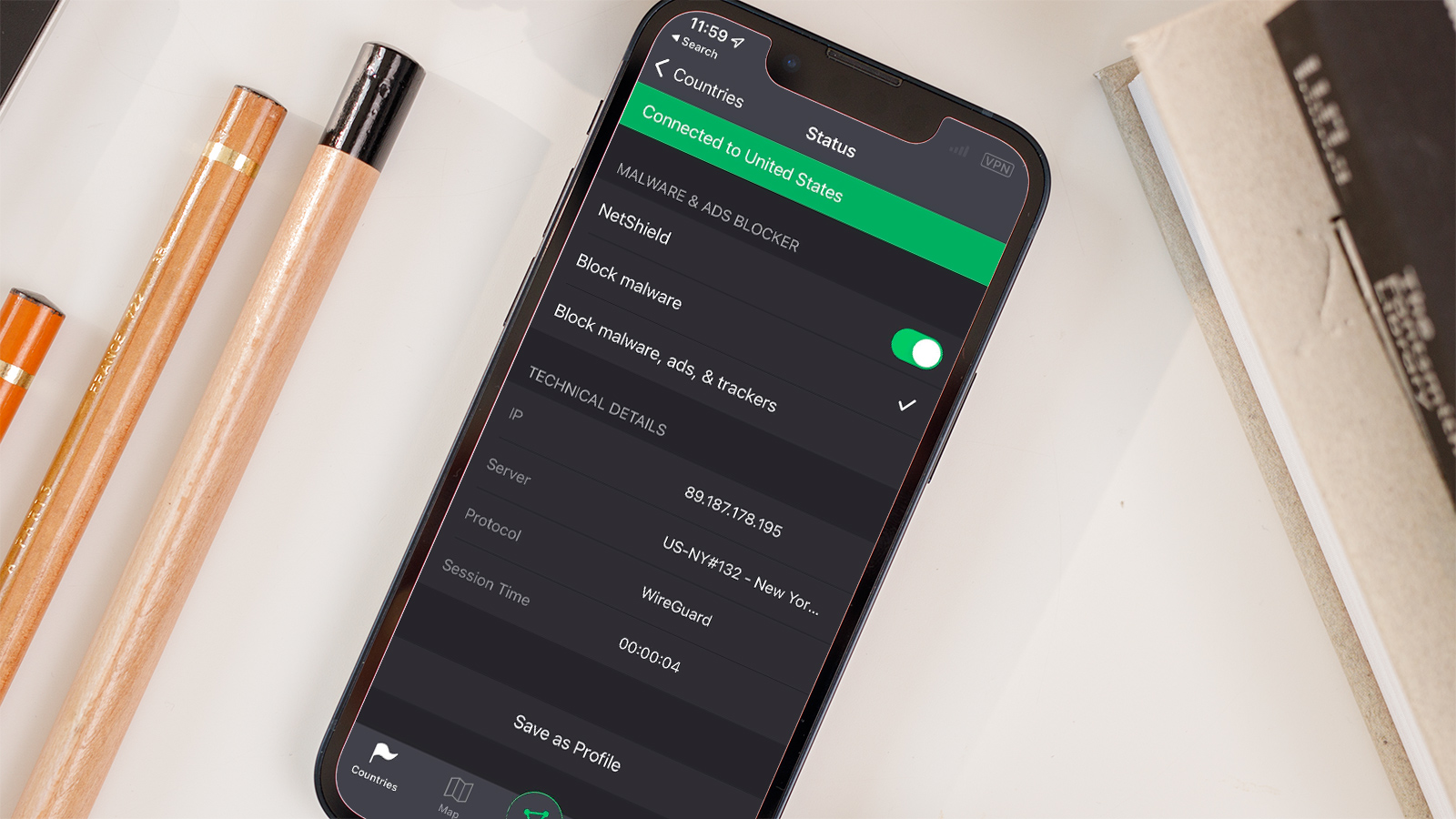 ProtonVPN has a free tier, that has restrictions on the number of servers you can choose, and the speeds on offer. Those who pay for ProtonVPN get access to excellent speeds, loads of options and can also use the Secure Core servers, which route your connection through multiple servers for increased privacy.
NetShield is included, which uses DNS filtering to protect users from website-hosted malware, ads and trackers.
ProtonVPN is good at unblocking streaming services, but the privacy credentials are really what you are paying for here.
The firm is based in Switzerland, which is ideal for privacy and a third party has audited Proton VPN and verified its privacy credentials.
See all prices and plans on ProtonVPN's website.
Read our full ProtonVPN review
ExpressVPN
Pros
Easy to use
Strong privacy and security
ExpressVPN is another excellent choice for your iPhone. As well as offering excellent security and privacy, it also unblocks more streaming services than its rivals, and there's friendly tech support available round the clock.
As with the other services here, there are also apps for other popular devices, and you can use it on five of them at the same time, so it should cover the whole family. (In fact, since you can connect your router direct to the VPN, and all devices connected to that router count as only one device, it's easy to get around the limit.)
It's worth noting, for those who plan to use this VPN on their non-iPhone devices as well, that the login process can sometimes be confusingly inconsistent between the various apps. Once you're logged in, however, the apps all look and feel the same, and work in the same way.
ExpressVPN is based in the British Virgin Islands for privacy reasons and, like Nord and others here, doesn't store any data about your use of its service.
It isn't cheap, though, costing considerably more than rivals.
See all prices and plans on ExpressVPN's website.
Read our full ExpressVPN review
PureVPN
Pros
Easy to use
Generous 10-device limit
Cons
No split tunnelling
No WireGuard
PureVPN is notable not just because it offers more than 6,500 servers, but because those servers cover a whopping 141 countries. You're unlikely to need to pretend to be in most of them, but it could be a bonus if you do need to access something that's not in one of the commonly covered regions, or live in one of those countries and prefer a local server for the best speeds.
The iPhone app, just like all PureVPN apps, was given a total makeover in 2021 and now looks bright and smart. More importantly, it's quick and easy to connect to your favorite locations, and it unblocks the stuff you want to watch. That includes iPlayer, ITV Hub and other U.K. services that some VPNs struggle with, and U.S. Netflix and Amazon Prime.
Unfortunately PureVPN lacks many of the features offered by the competition, and even with WireGuard the speeds weren't particularly impressive–you will notice a loss in performance if you are used to full fibre. That said, it is fast enough for streaming video. Our only notable reservation is that split tunnelling is limited to Windows and Android, and isn't available on either iPhone or Mac. Another annoyance was the fact that PureVPN caused many websites to force us to answer one of those annoying verification quizzes to prove we were human.
PureVPN is now based in the British Virgin Islands, which is more privacy friendly than Hong Kong, where it used to operate. KPMG has audited and confirmed that PureVPN sticks by its no-logs policy.
Install the app on your iPhone and you can get a seven-day trial just by entering your email address. If you like it, you'll be pleased to hear that subscriptions are very reasonably priced. 
Read our full PureVPN review
VyprVPN
Pros
Very easy to use
Low starting price
Cons
Patchy support
Comparatively few servers
VyprVPN is unusual in that it owns and operates all of its servers and network hardware. Most VPNs rent their servers, install custom software and manage it remotely, but not Vypr.
This is why VyprVPN is a great choice for privacy, and it also offers good speeds thanks to the introduction of WireGuard. It's also why there are fewer servers, but they're distributed among a good number of countries, including the ones which most people want.
It's speedy, thanks to WireGuard, and lets you have five devices connected at the same time. 
Like its rivals, Vypr operates a strict no-logs policy and offers deep discounts on the regular monthly price if you're willing to subscribe for a couple of years.
Read our full VyprVPN review
Ivacy
Cons
No WireGuard
No audit of privacy policy
Ivacy isn't a free VPN service, but it's so cheap–not to mention impressively effective–that we'd strongly recommend this over a free alternative. With options like this available, there's really no point in struggling along with the limitations of a free service.
It can't match the very best services here for unblocking loads of video services–it wouldn't unblock Netflix Japan when we tested it–but it did work with the U.S. library from the U.K.
Click the link above and you'll see a five-year subscription deal. While that length of time might put you off, the up-front cost is about the same as many of the two-year deals here. So you're paying the same money (or less), but getting access for five years. If that's not convenient, we don't know what is.
As well as working on your iPhone, Ivacy has plenty of other apps, and you can use up to five devices at the same time with the service.
It doesn't have the largest number of servers and you're not going to get the absolute top speeds, but the appeal here is value: It's a great service with only minor niggles.
Read our full Ivacy review

Source
TECH GADGET