Roundup of iOS apps for international travelers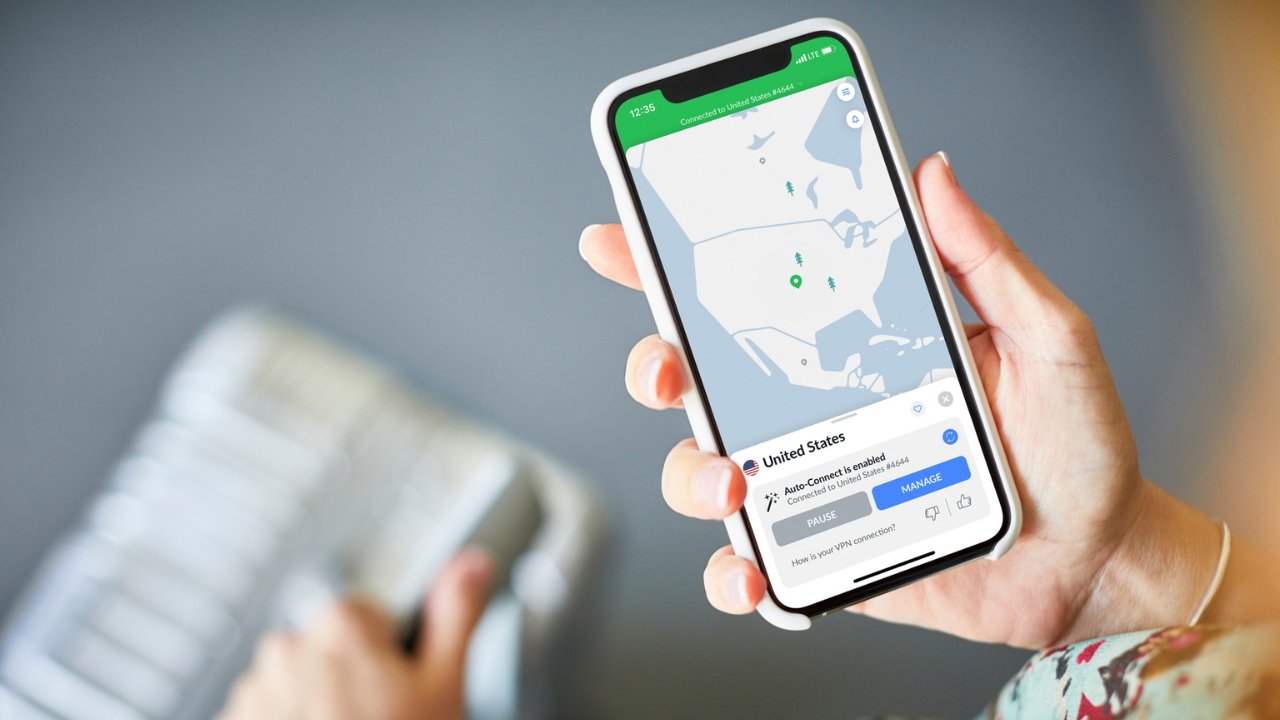 International travel can pose challenges, but these iOS apps can ease your troubles and enhance your experience.
Traveling overseas can open your eyes to new cultures, experiences, and adventures. But it can also pose problems, such as language barriers and jet lag.
Whether you need to decipher a menu, cope with a new time zone, or deal with other common issues for people who travel abroad, here is a roundup of iOS apps to help you along your journey.
NordVPN — data protection
Free Wi-Fi at airports, cafes, or hotels can be tempting for travelers who want to avoid costly roaming data packages. But this can expose them to security risks, as hackers can access their data on public Wi-Fi networks.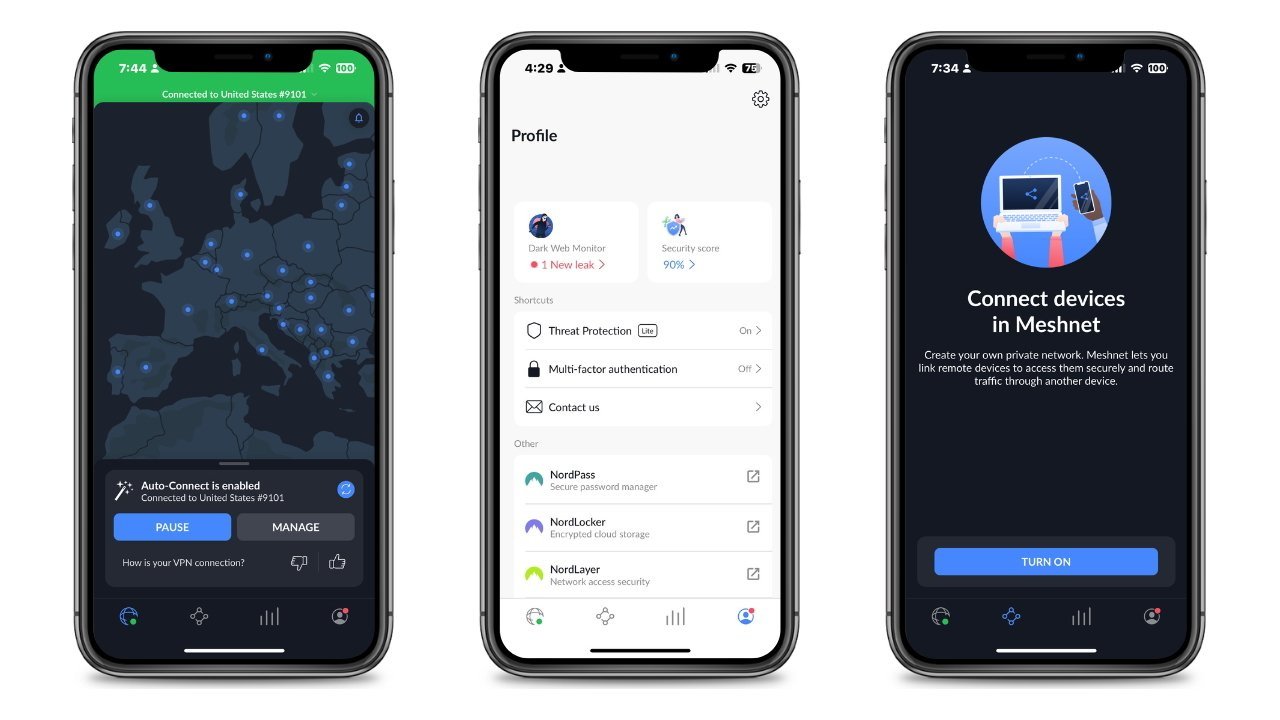 NordVPN can help protect users from hackers on public Wi-Fi
A virtual private network, or VPN, can safeguard you from potential hackers on public Wi-Fi, and a popular VPN service is NordVPN, with almost 400,000 ratings on the iOS App Store.
The NordVPN app has several practical security features, such as the VPN Kill Switch. This feature prevents your device from connecting to the web if your VPN connection is interrupted even for a few seconds.
If your VPN connection cuts out suddenly, you will not be open to hackers on the public Wi-Fi network.
There is also a feature called the Dark Web Monitor, which searches for your data, such as your contact information on the dark web, and alerts you if any leaks are detected.
Another benefit of a VPN service like NordVPN is that you can access geo-restricted content anywhere in the world.
For instance, if you are backpacking through South America, you may not be able to watch the same shows as you did back home in Europe. You can change your IP address using NordVPN to keep watching your favorite shows, even if you are thousands of miles away.
NordVPN's pricing start at $15.49 billed monthly, or $160.56 for the first two years. NordVPN offers promotions regularly, so be sure to check for reduced pricing.
OneDrive — file storage and sharing
One of the worst fears of international travel is misplacing your passport. If you do, you can still retrieve your passport number and information using a cloud storage service.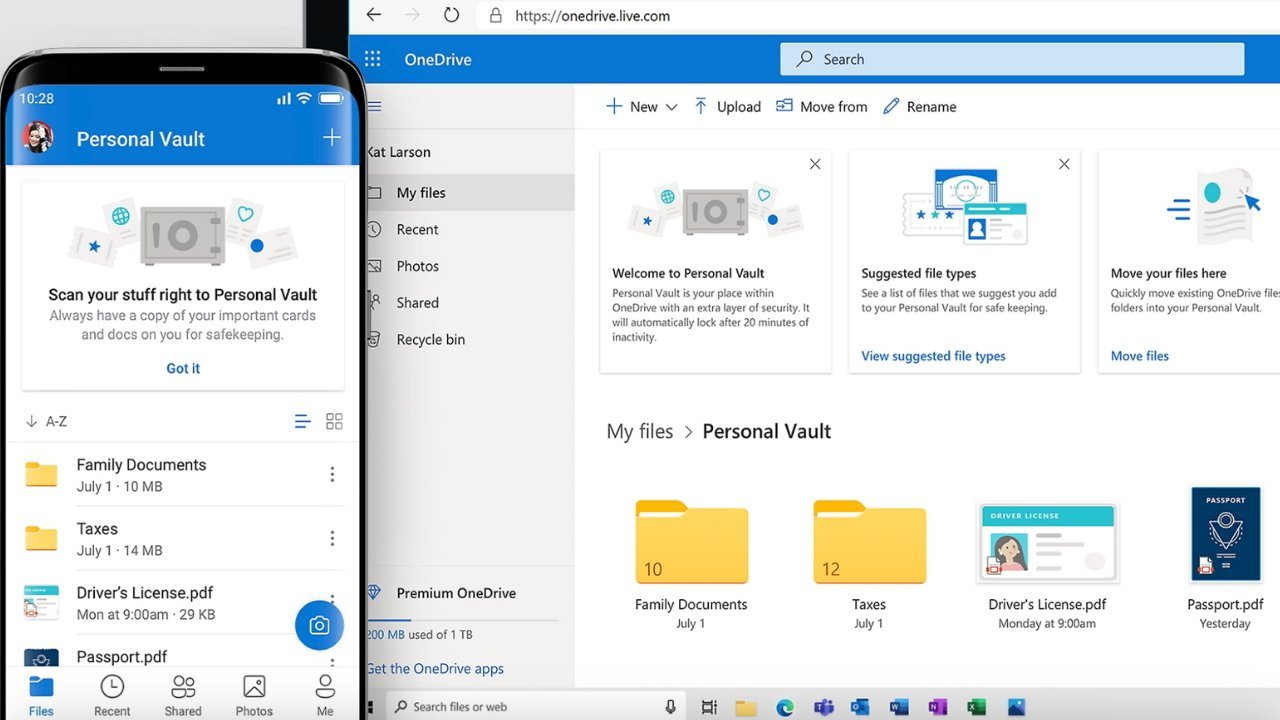 OneDrive's Personal Vault can store important documents like IDs and passports
Microsoft OneDrive is a cloud storage service with an iOS app that lets you access your essential documents from your device. You can also view your documents offline on your iPhone when you don't have Wi-Fi during your travels.
For extra security, you can upload sensitive documents to your Personal Vault on OneDrive.
The Personal Vault is a password-protected folder included with each OneDrive account. You can set up an authentication method to unlock the vault, such as a PIN or Face ID.
Another benefit of having cloud storage such as OneDrive is that you can back up your vacation photos and videos. Not only can this save precious storage on your iPhone, but even if you lose your phone, you won't lose your photos and videos.
If you want enough storage to hold your photos and videos for future trips, you can consider getting the Microsoft 365 Personal Plan with 1TB of cloud storage, which includes the Microsoft Office Suite.
iTranslate — overcome language barriers
Traveling can be an enriching experience, but the language barrier can make it hard to communicate with locals. To make matters worse, if you don't have pricey international data plans, you can't translate words by searching for them online.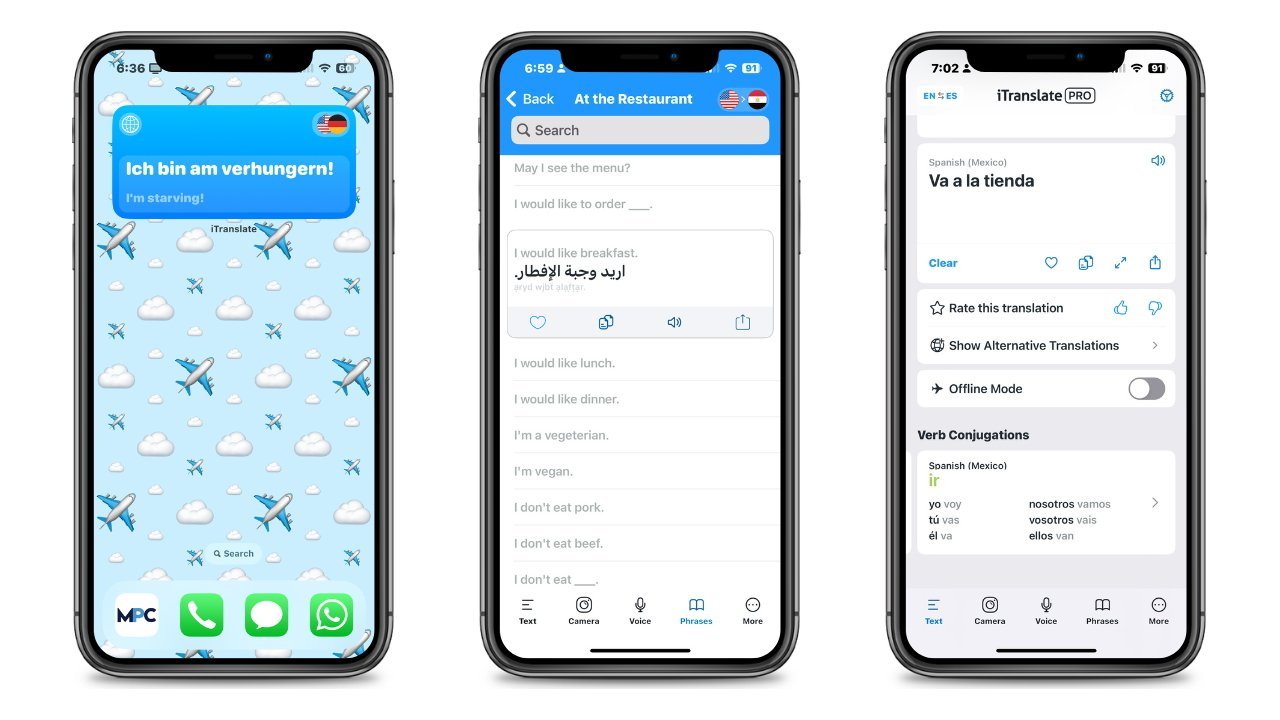 The iTranslate app can also prepare you with essential phrases for your trip
The iTranslate app can help you communicate with locals in their native language. The pro version allows for offline translation, so even if you are in a remote place, the app can still help you.
With over 100 languages available, it can help you navigate through many countries around the globe. You can easily translate via text, voice, image, and AR mode.
To use the AR mode, take a photo of an object, and iTranslate will give you the word for that object in the specified language.
The iTranslate app goes beyond helping you translate words and phrases. Before you take off for your trip, you can memorize essential words and phrases you will use during your stay.
The language learning features on the iTranslate include a flashcard widget, a phrasebook, and a verb conjugation chart for some languages. Although you will not become fluent in the other language, you can learn a few words and phrases that can help you get around a new city.
Timeshifter — combat jet lag
After months of travel preparation and reservation, your plane finally lands in the new city you've been dying to discover. But while your mind is ready to explore new sights, your body might not keep up because of jet lag.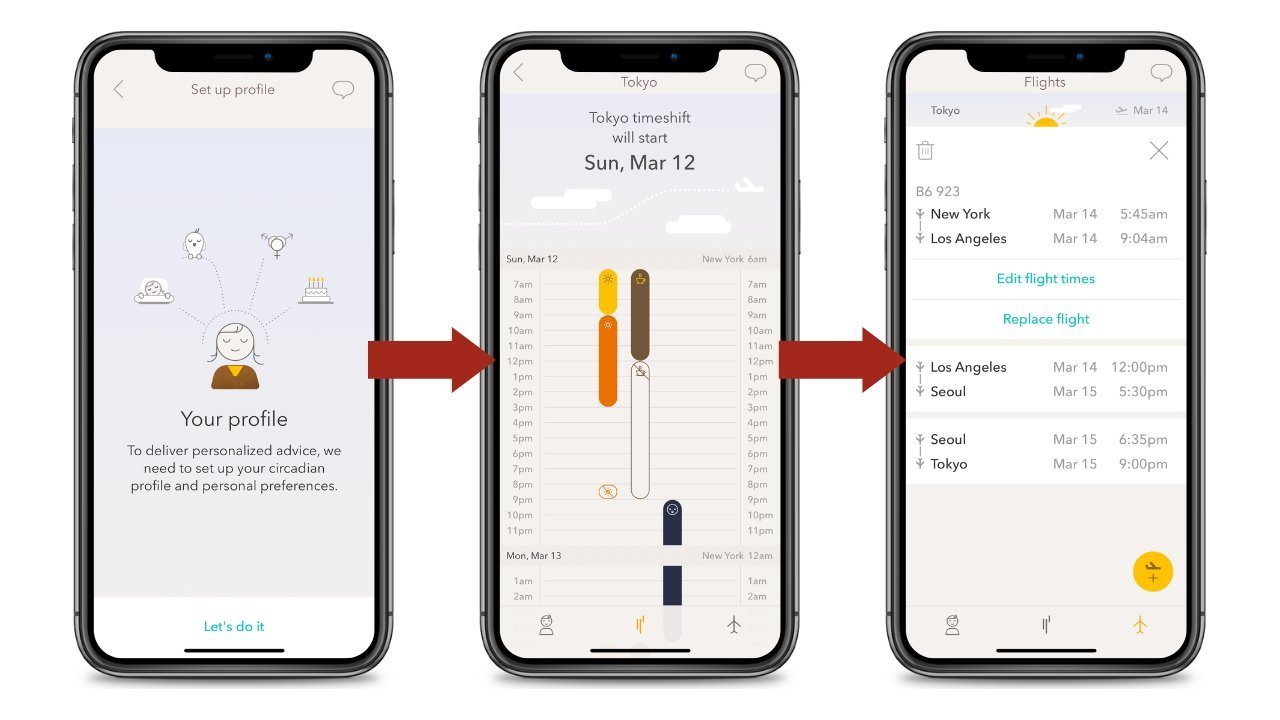 The Timeshifter app can help you combat jet lag
Before your trip, you can use the Timeshifter app to sync your circadian rhythm with your destination. This app helps you adapt to new time zones gradually.
It is easy to use and eliminates the confusion of adjusting your body clock to new time zones.
To use it, create a jet lag plan by entering your sleep pattern and flight information, and choose whether you want to incorporate caffeine and melatonin. Based on the data you entered, the app provides personalized prompts on when to seek and avoid light, drink coffee, take a nap, and so forth.
It can help you methodically shift your bedtime before your departure date so that you will feel less like a sleepless wreck and be more alert and energized upon arrival. This way, you can avoid the dreaded cycle of fighting sleep during the day and staying wide awake at night, which can rob you of enjoying your vacation.
If you are willing and able to put in some effort, Timeshifter can help you sync your circadian rhythm with your destination's time zone.
Try the first jet lag plan for free on Timeshifter by downloading it from the App Store. After that, prices start at $9.99 per jet lag plan or $24.99 per year for unlimited jet lag plans.
My Currency Converter and Rates — off-line rate conversion
As you explore your destination sampling the local food or shopping for unique gifts, you need to calculate the exchange rate to ensure a fair deal. Even if you use cashless payments like Apple Pay, you might still want to know if you are paying USD 15 for a bad cup of coffee.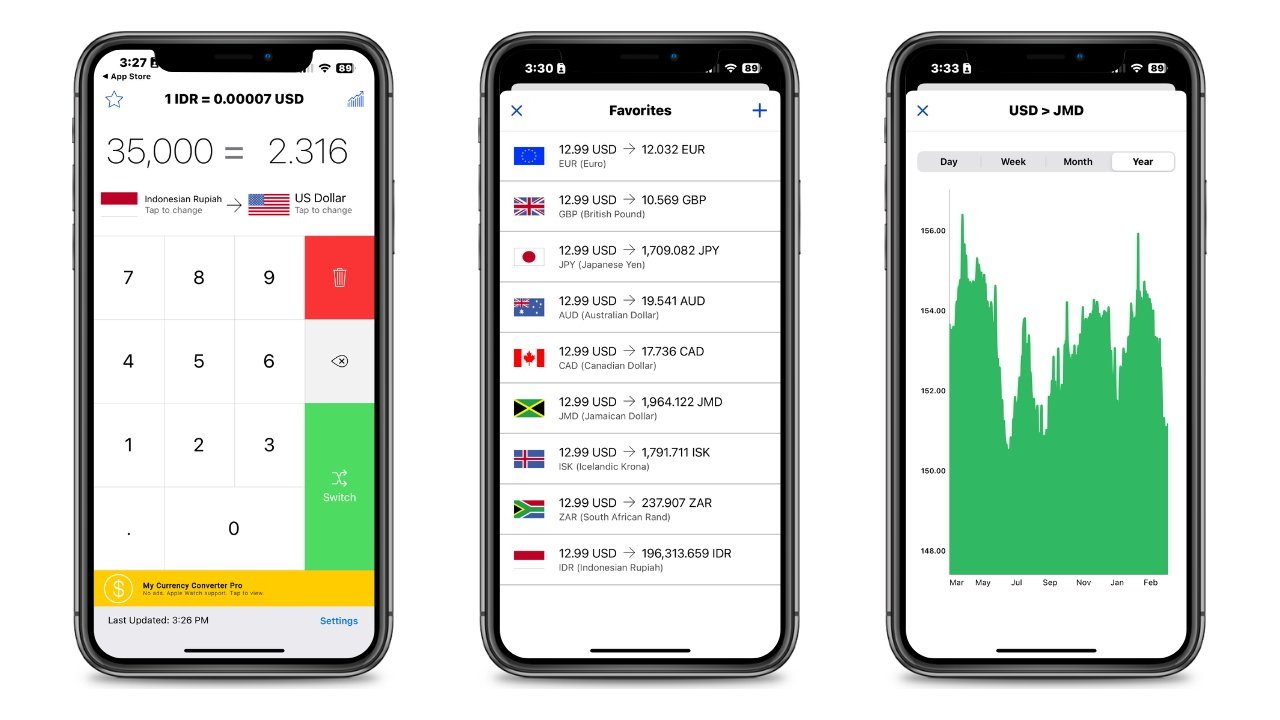 My Currency Converter and Rates app
Some local craft markets in certain destinations may expect you to bargain with them. In that case, quick calculations will help you negotiate with fast-talking vendors more effectively, especially if you are not good at math.
My Currency Converter and Rates app can help you calculate rates when traveling abroad, even without Wi-Fi. The app supports over 150 currencies and is straightforward, as the user interface is similar to a basic calculator.
Simply select two currencies you want to convert, punch in the digits, and press enter.
Exchange rates are updated automatically when your device connects to the Internet. If your device is offline, it will show you the time of the last update to the exchange rates.
When using this app, remember that the exchange rate may be outdated if your device is offline for a prolonged period. Of course, this is not a problem unique to this app, but something travelers must be aware of to make informed financial decisions on their trip.
Download My Currency Converter and Rates for free from the App Store. My Currency Converter and Rates Pro is a separate app without ads, and you can get it for a one-time charge of $1.99.
CBP's Mobile Passport Control — expedited U.S. entry
After you have overcome jet lag, language barriers, and currency conversions, you might be craving the comforts of home. If your home is in the United States, you can speed up your entry process without paying for a trusted traveler program like Global Entry.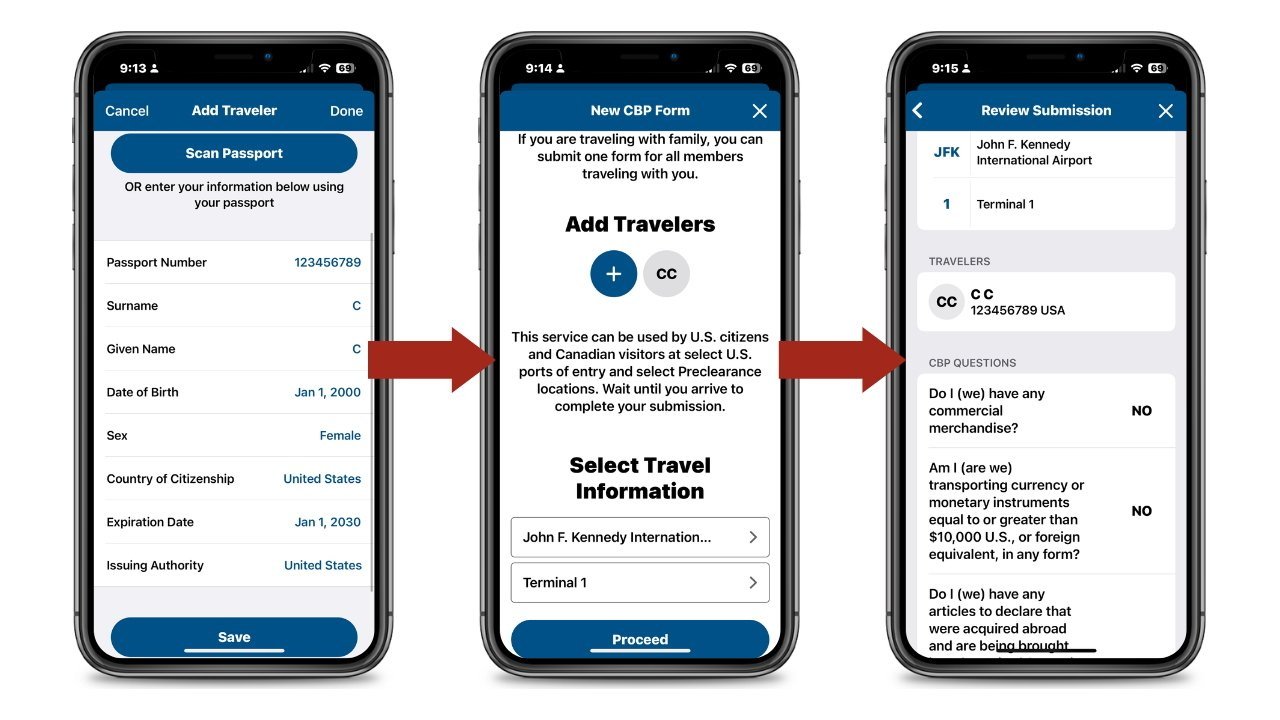 CBP's Mobile Passport Control app
The Mobile Passport Control app is free and provided by US Customs and Border Protection or CBP. The MPC app will not work for everyone, as it is only available to eligible American and Canadian travelers.
Even if you are an eligible American or Canadian traveler, you can only use the MPC app at limited ports of entry. Currently, MPC is available at 32 US international airports, eight Canadian pre-clearance locations, and four seaports.
The MPC app virtually replaces the traditional paper-based passport review process.
To use it, enter your passport information and questions you would find on a standard paper version of the CBP Declaration Form. When you arrive at the airport or seaport, submit the form, take a selfie photo, and you will get a QR code.
When you enter the customs area, look for the MPC-designated line and present your QR code and passport to the CBP Officer. The MPC-designated line should be shorter than the regular lines so you can get through customs faster.
Although the MPC app does not give you the same benefits as other programs like TSA Pre-Check or Global Entry, this is a free option that you can try when entering the US from your next international trip.
TECH GADGET