If you've been staring at the expanding background options in Google Meet and wishing that Microsoft would give you more options in Teams, you're in luck.
In a blog post, Microsoft announced that it is releasing a ton of new background options in Microsoft Teams, the company's Slack competitor. The company called today's release: "The most extensive update since the first collection released in 2020."
The new backgrounds that are beginning to rollout reflect Teams' continued desire to elevate personal expression and they're tailor-made to address top concerns of the modern workforce: collaboration, well-being, productivity, and focus. Every detail is crafted so you can turn on your camera with confidence, empowered to connect and collaborate amidst an atmosphere that supports your personal needs and style.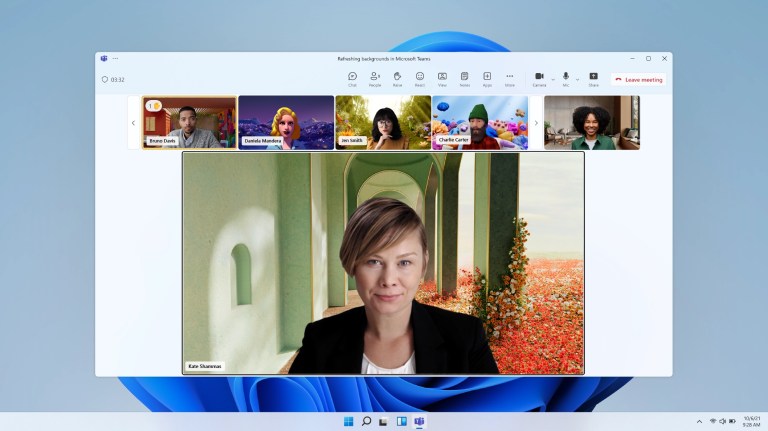 Sven Seger, Global Creative Director for Microsoft, said in a statement that the company's goal with the new backgrounds was "to help people feel at ease, at home. Home means different things to everyone. So, our goal was not to define an actual singular location, but rather convey a feeling of it — a sense of presence, calm, beauty in an imaginary space where you can express your individuality."
Featuring all-new images, the reimagined visual library for Teams has been thoughtfully designed to represent the people that use them and how they work best. Looking at the popularity of certain images, we noticed that customers are equally enthusiastic about being depicted in fun and imaginative scenes as they are being portrayed in realistic spaces like a coworking space, office, or home. By mapping out a series of user needs and meeting types, the Teams crew applied a fresh lens to craft and organize the new backgrounds into six categories.
The new backgrounds are available starting today. Feel free to check them out — some of them do seem really cool and likely more interesting than what's actually behind you while you're on a call.
As Microsoft rolls out new features for Teams, Google has expanded its testing program for its new generative AI features coming to Google Docs and Gmail.
TECH GADGET