Keychron K1 Pro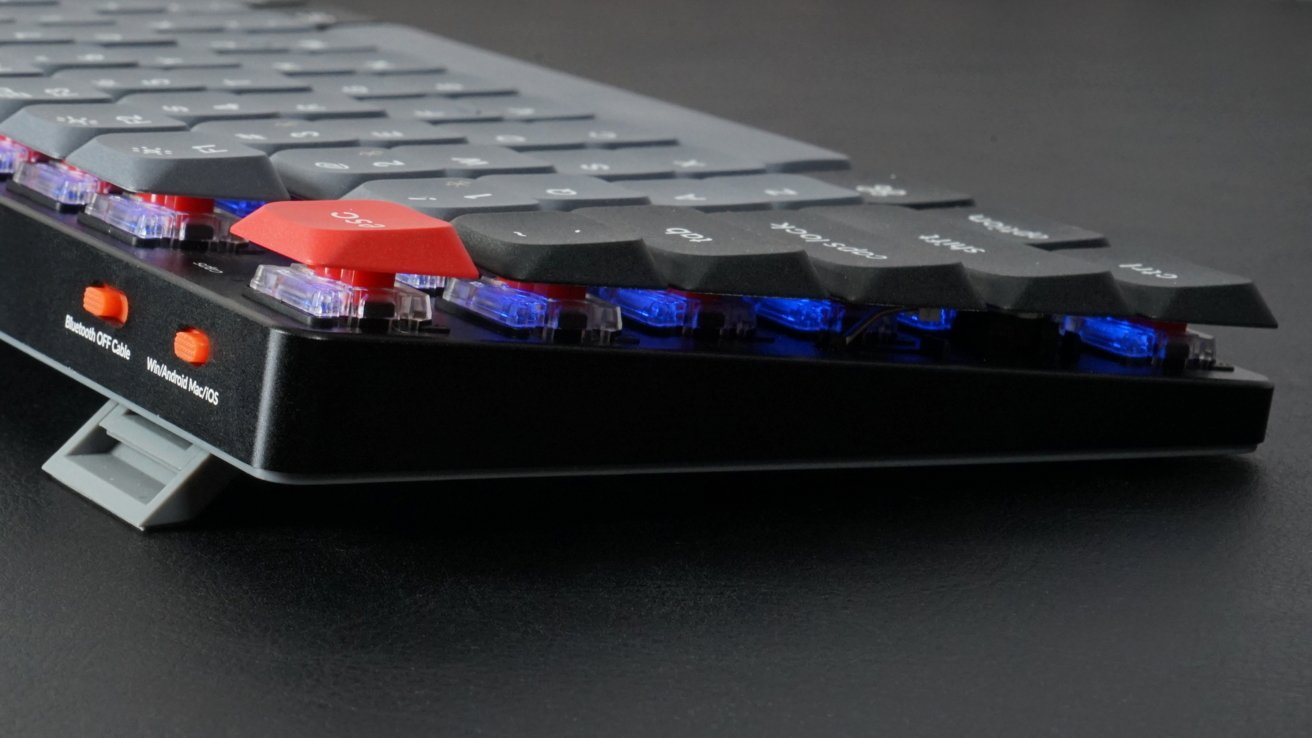 Keychron's K1 Pro is an excellent low-profile mechanical keyboard that earns its pro name with hot-swappable programmable switches and a 1,000 Hz polling rate.
Keychron has made a name for itself by designing a variety of keyboards with similar technologies across a wide range of sizes. The Kechron K1 Pro is an evolution of the original K1 keyboard that elevates it to pro status.
While it was an excellent keyboard, we can acknowledge it isn't exactly the aesthetic Apple would go for. However, the K1 Pro's refreshed design leans much closer to a classic keyboard design.
Throughout this review, we'll focus on how the K1 Pro is designed and operates, but we will compare some aspects to version 4 of the non-pro model. If anything, this updated model exemplifies how far Keychron has come in three years.
Note that there is a K1 v5 that we have not tested. It has a modern design and keycaps but lacks some features and programmable keys.
Keychron K1 Pro features and design
The Keychron K1 Pro is a low-profile tenkeyless mechanical keyboard with an 80% layout. It is 22mm tall at the highest point and uses low-profile Gateron switches. It weighs 1.28 pounds.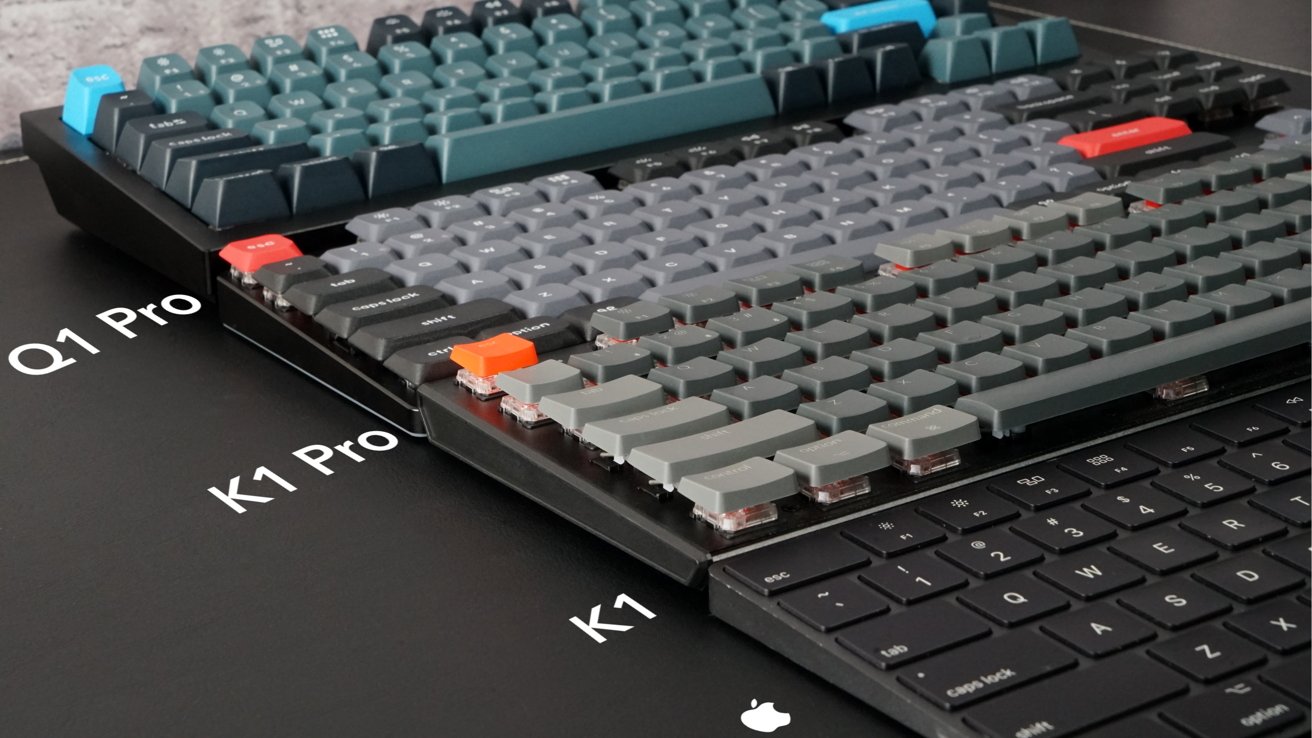 The K1 Pro is a slim-profile keyboard with an improved design over K1 v4
We tested the hot-swappable option with an RGB backlight. It has a low-power ARM chipset with 128K Flash that developers can use.
Like other Keychron keyboards, it has multiple use modes. A switch on the side controls whether it is in Windows or Apple mode, and another switch changes between wired and Bluetooth mode.
It can be paired with three devices over Bluetooth and quickly swapped with a key command. The wired mode has a 1,000 Hz polling rate optimized for fast gaming response.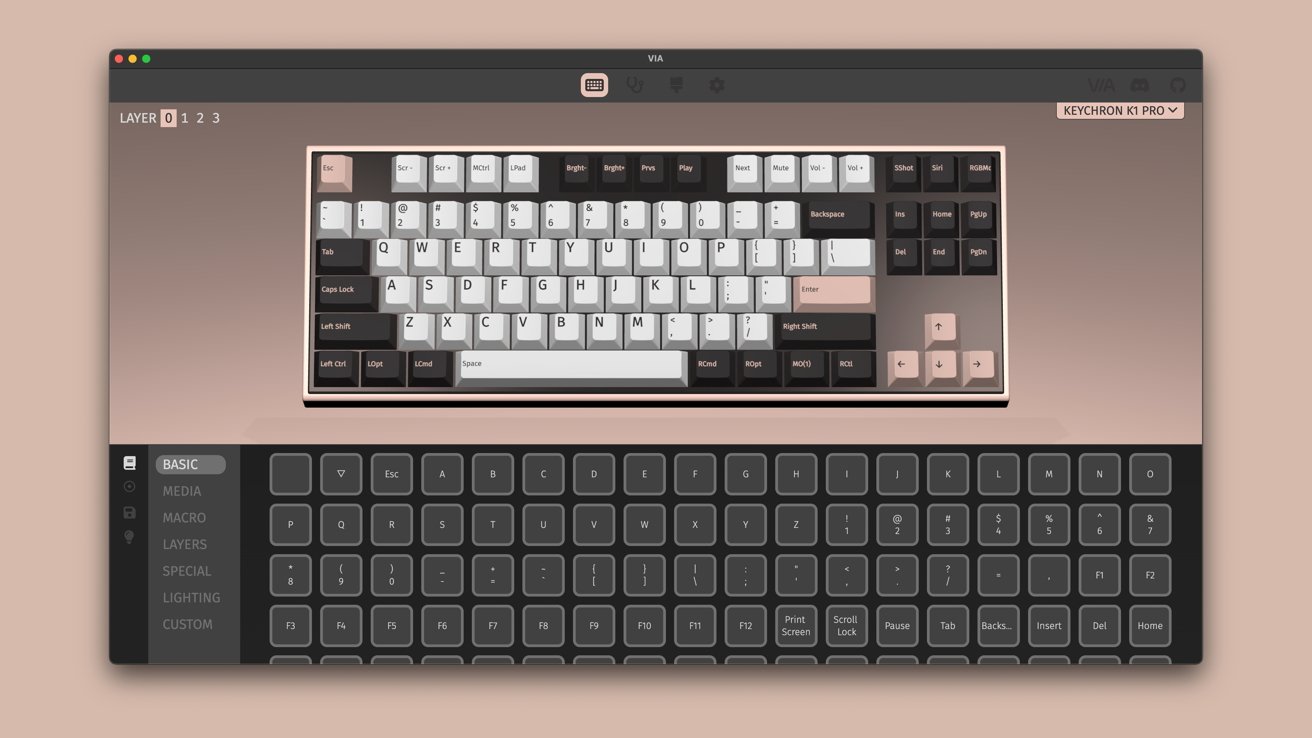 Program keys with VIA
Program any key on the keyboard with QMK and VIA. A JSON file for the specific keyboard can be found on the Keychron website.
Every key is hot-swappable, so trade out switches as desired. We're happy with the red switches, but blue and brown are also available.
Keychron redesigned the stabilizers for keys that are double-width or wider. Keys depress without any wobble, even the spacebar.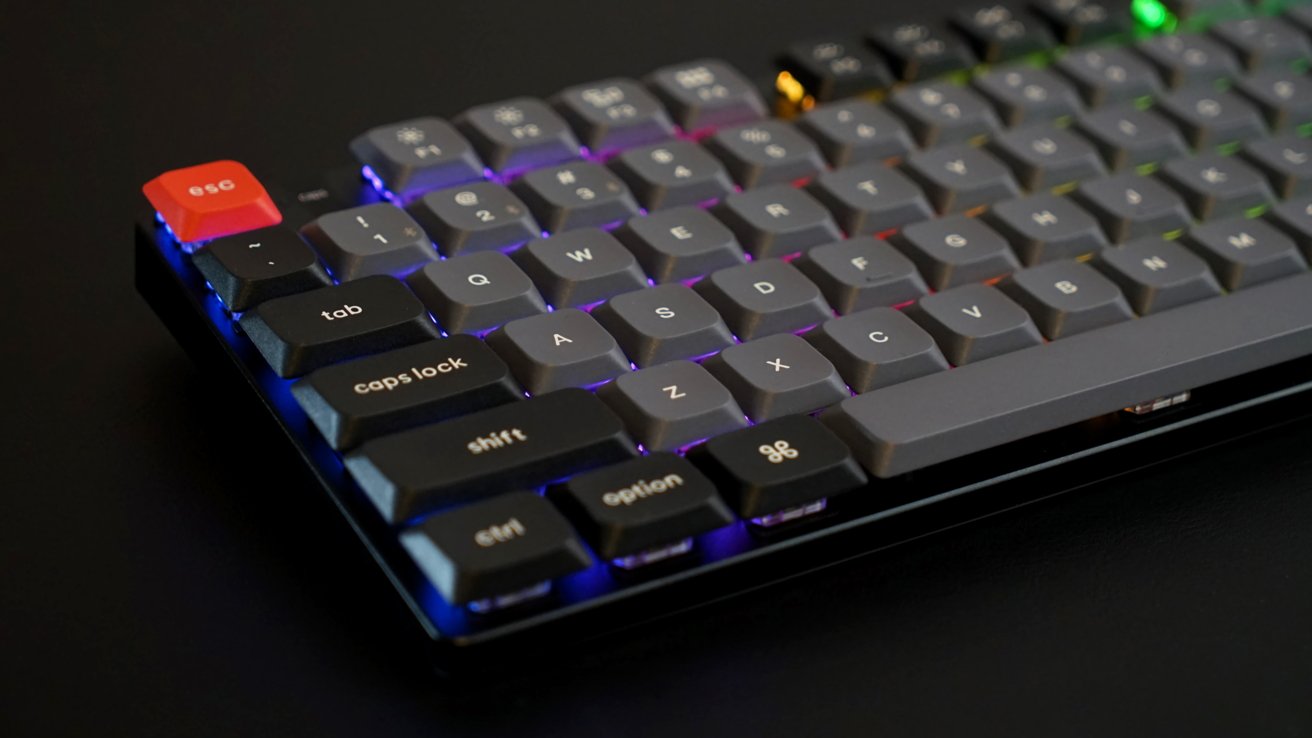 There are 22 RGB backlight options
22 RGB backlight settings can be manipulated with various key presses. Tune hue, saturation, brightness, and animation speed to your liking.
The K1 Pro gains adjustable feet, which the K1 v4 does not have. There are three positions available — closed, high, and low.
The double-shot PBT keycaps are tightly packed on this keyboard frame. Slight gaps allow light to pass through with a reflective effect against the key edges.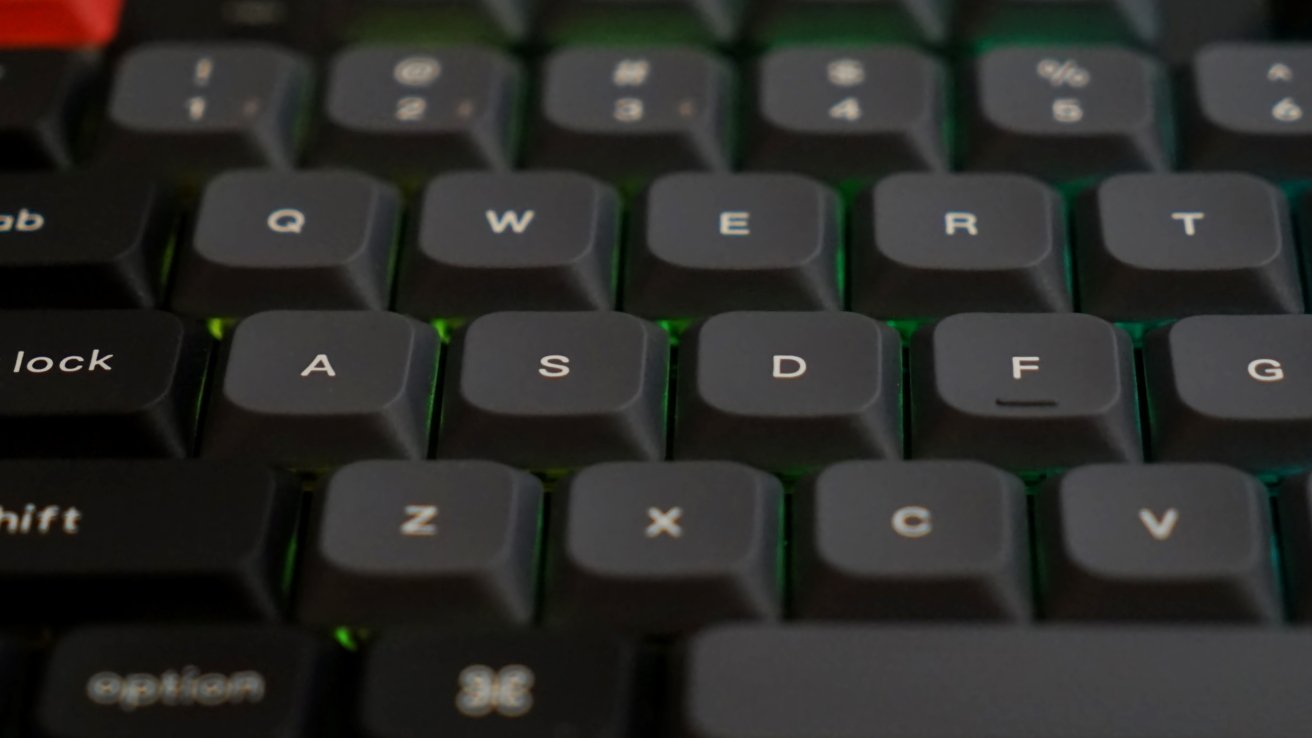 The minimal key spacing is a better industrial design over K1 v4
This is an improved design over the K1 v4, which had wide spacing between keys. It gives the keyboard a more elegant and classic style when viewed from above.
The internal 2,000 mAh battery provides plenty of hours of use. Keeping the backlight off provides about 100 hours of use while keeping the backlight enabled at low brightness reduces the time to 33 hours.
Using the Keychron K1 Pro
We've been using the K1 Pro for a few weeks and haven't encountered any sticky keys or bugs. The mushy feeling we felt in the K1 v4 is gone — these keys feel much better to type on and more balanced.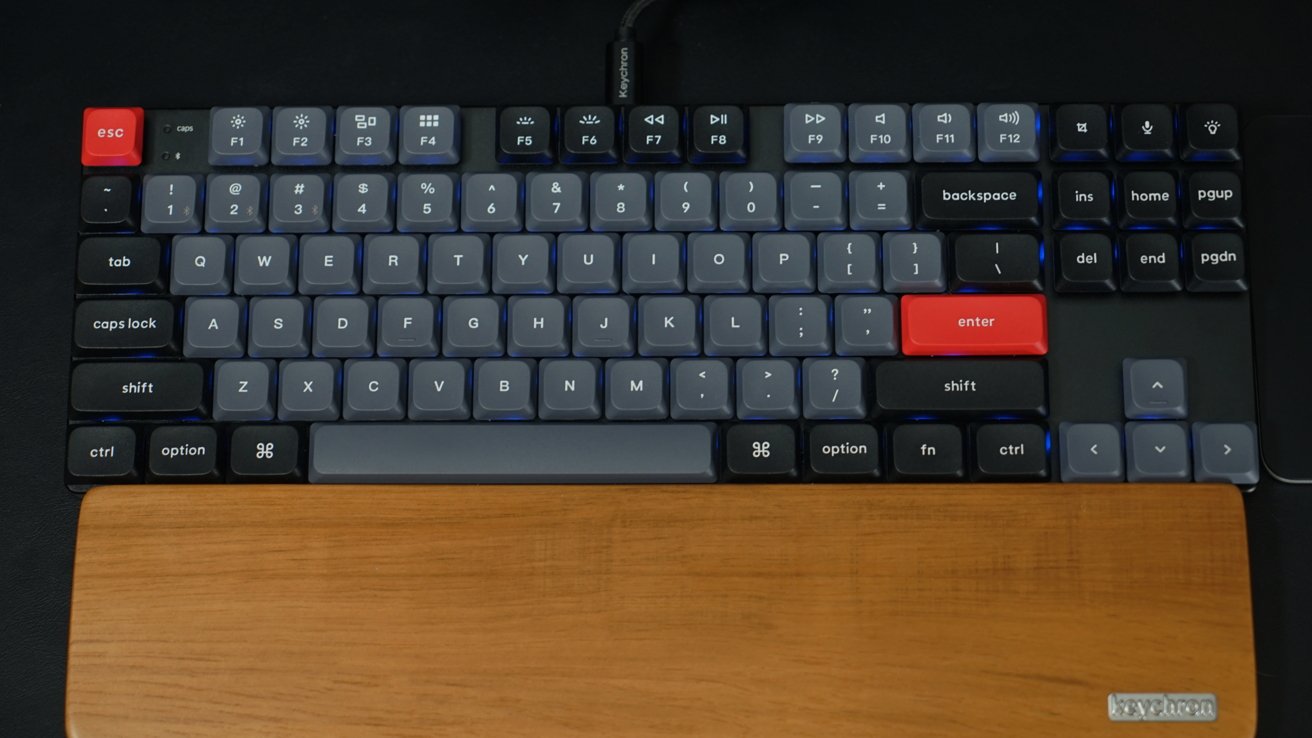 The USB-C port is centered in the back — not ideal
Red switches' muted, clicky feedback sounds pleasant through these slim keycaps. When pressed, the space bar gives an enjoyable plunk sound.
K1 Pro has an improved case design that's more uniform than the angular K1 v4. The Gateron switches in the pro model are compatible with low-profile keycaps with the "+" shape associated with Cherry versus the older low-profile Gateron switch with "l l" holes for keycaps.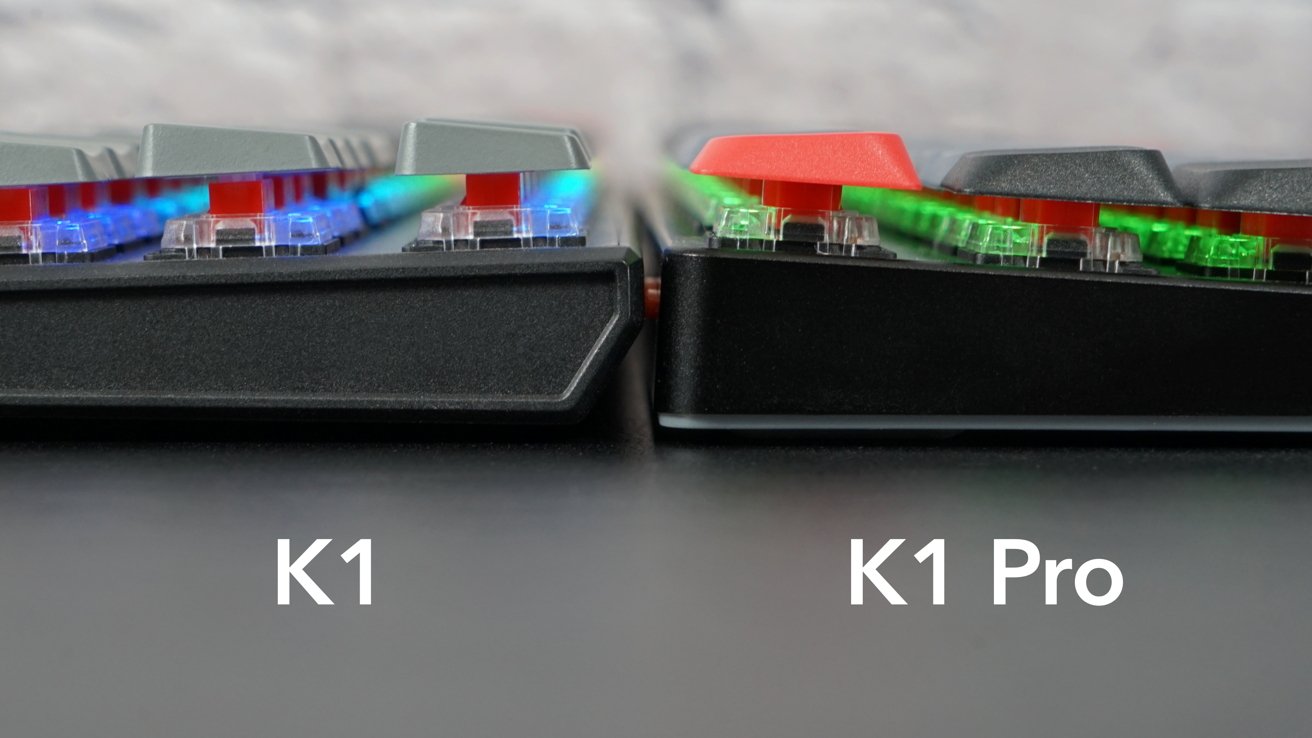 K1 Pro has a less angular case design
Booting up VIA and mapping the screenshot key to my preferred CleanShot X action was straightforward. The six function keys to the right of the backspace are also great candidates for keycap replacement and new key bindings.
We're not fans of the hyperactive RGB backlight animations, so we set it to hold a steady blue backlight while in use. But, of course, plenty of rainbow and pinwheel options exist for more chaotic setups.
The USB-C cable attaches to the rear center of the keyboard, which isn't ideal. We prefer the side-port option so the cable can be more easily managed and hidden. A USB-C cable jutting from the back isn't exactly hideable.
Low-profile K1 goes pro
Keychron's pro-series keyboards are excellent. The company has gone a long way to give customers a range of keyboard sizes, switch options, and other features.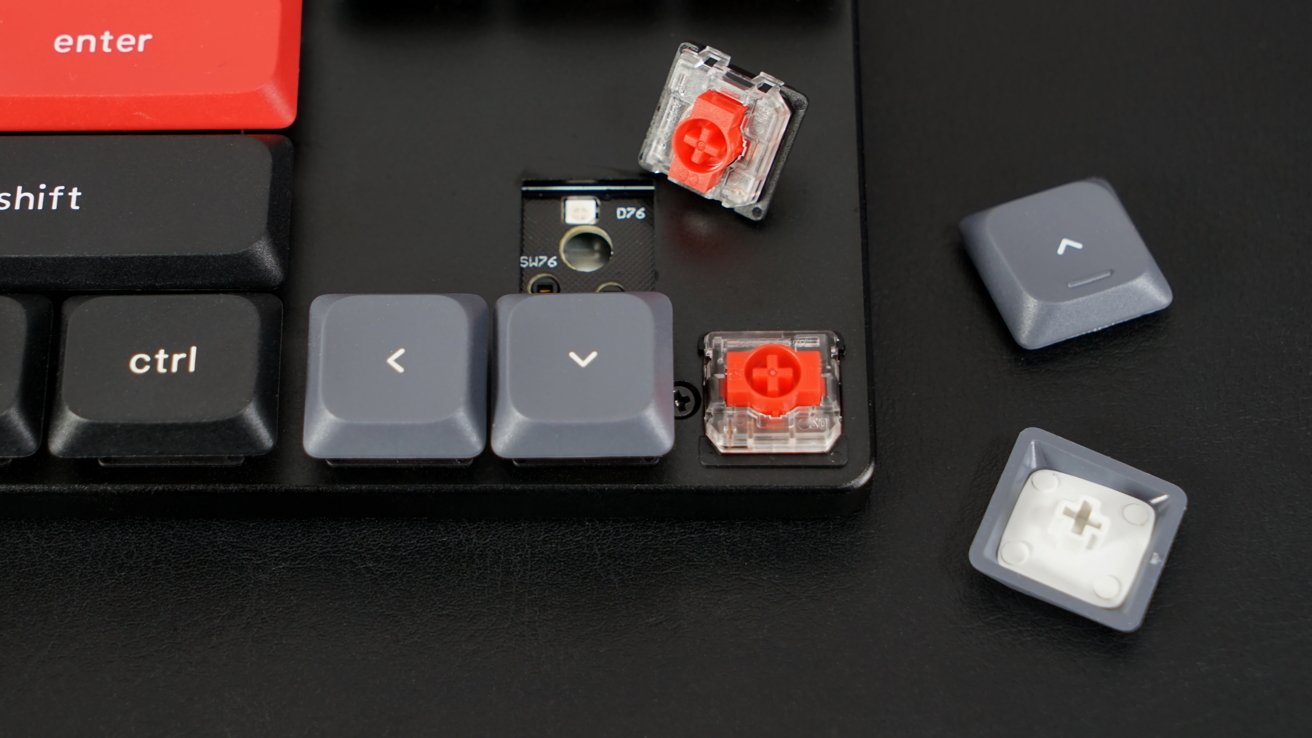 Hot-swappable and programmable keys
The K1 Pro is an excellent option for those still using an Apple Magic Keyboard but are interested in mechanical keyboards. It's not too big and heavy, but it provides the programmable and customizable options coveted by mechanical keyboard enthusiasts.
We're not going so far as to say this (or the K1 v4) should be the one Apple made. However, it is a clear winner regarding design aesthetic and customization range.
The K1 Pro is an obvious choice for anyone looking for a low-profile mechanical keyboard. Good design meets modern technology.
Keychron K1 Pro pros
Improved key feel and design in pro model
Plenty of RGB options
Programmable with VIA
Pairs with three devices and has a 1,000 Hz wired mode
Height/angle adjustment with included feet
Keychron K1 Pro cons
USB-C port is centered in the rear
Rating 4.5 out of 5
Keychron's current pro keyboard lineup is tough to beat. Customers need only choose the size and shape of their desired keyboard and go from there.
The K1 Pro is an excellent low-profile keyboard we can easily recommend to first-time mechanical keyboard users and veterans alike.
Where to buy the Keychron K1 Pro
Get the Keychron K1 Pro with an RGB backlight and hot-swappable keys from Keychron's website for $114.
TECH GADGET