Apple has a jam-packed press event scheduled for early June, the main WWDC 2023 keynote. That's where we'll first see the AR/VR headset and the 15-inch MacBook Air. Also, Apple will unveil various operating system updates at the show, including iOS 17 and iPadOS 17. But the Apple M3 MacBook and iPad chip isn't on the WWDC menu.
At best, the new System-on-Chip (SoC) is only coming in late 2023. But Apple is apparently testing it already, according to Bloomberg's Mark Gurman. And while the M3 specs sound interesting, it'll be a while until you'll be able to buy the first MacBook or iPad running on Apple's first 3nm SoCs. The upcoming M2 15-inch MacBook Air would be a better choice.
Gurman shared in his newest Power On newsletter data from an App Store developer who thinks they saw Apple's new M3 chip in testing.
If the information is accurate, one variant of the M3 could have 12 CPU cores, 18 GPU cores, and 36GB of unified RAM. The CPU has six high-performance cores and six efficiency cores. Also, the report notes the chip in this particular test is running in a future high-end MacBook Pro with the unreleased macOS 14.0 installed. The chip might be the base version of the upcoming M3 Pro next year.
As a reminder, the Pro and Max version of an M-series chip follows a few months after the arrival of that M-series' SoC. That means Apple will launch M3 devices before it releases the M3 Pro and M3 Max variants. Computers like a new 13.6-inch MacBook Air, legacy-design MacBook Pro, and new iPad Pro.
Comparing the purported M3 Pro to the M2 Pro, Gurman says we're looking at 2 extra CPU efficiency cores, 2 extra graphics cores, and an extra 4GB of RAM in the top-end configuration.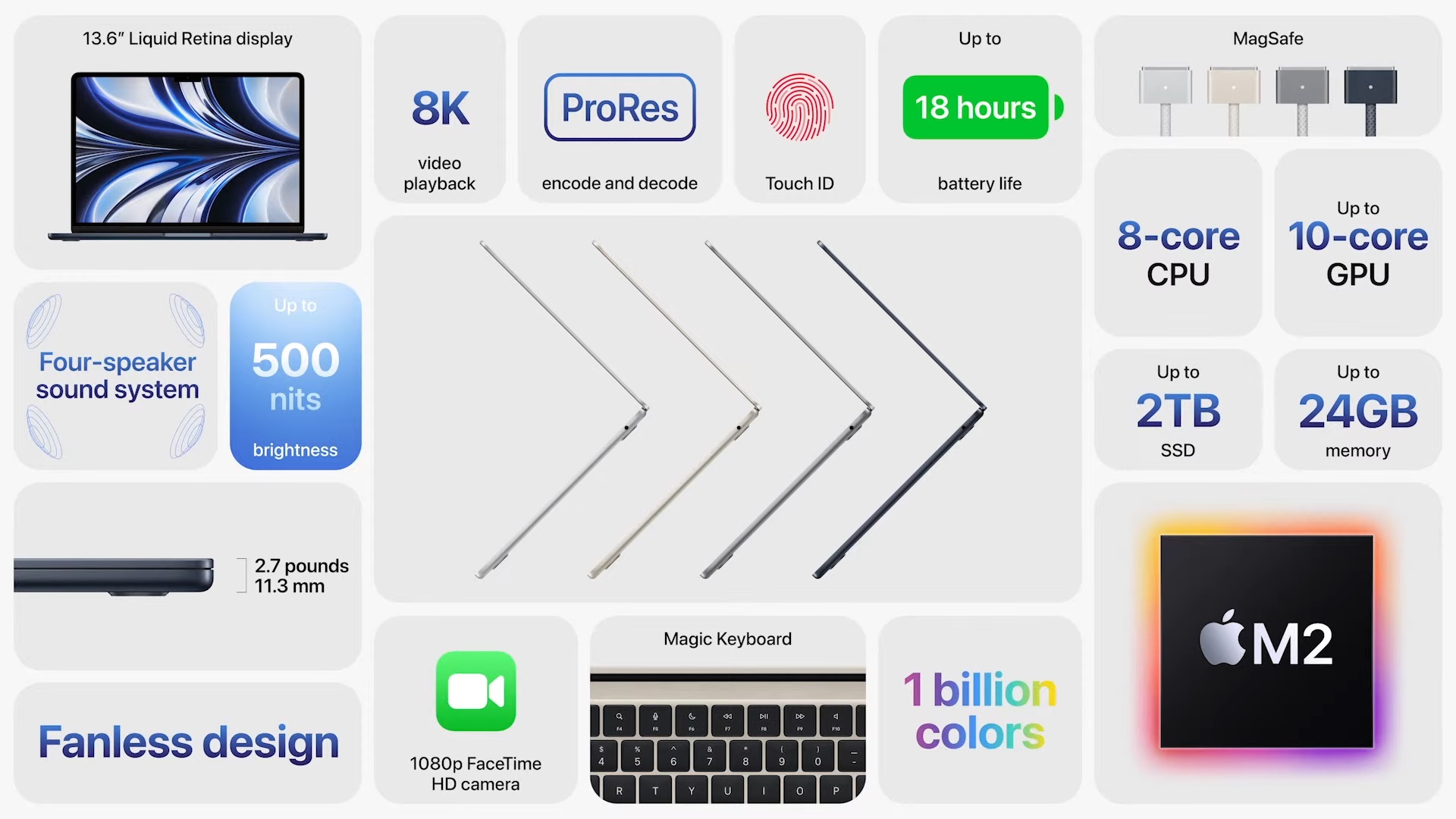 The first M2-powered MacBook Air. Image source: Apple
Following the same logic, Gurman speculates on what the M3 Max ad M3 Ultra could look like:
If the M3 Max were to get a similar gain as the M2 Max (compared with the M1 Max), that would mean Apple's next high-end MacBook Pro chip could come with up to 14 CPU cores and more than a whopping 40 graphics cores. Speculating even further, that would mean the M3 Ultra chip could top out at 28 CPU cores and sport more than 80 graphics cores, up from a 64-core limit on the M1 Ultra.
That's possible thanks to the move to the 3nm process, which lets Apple cram more cores inside a shrinking processor.
If you need a new MacBook now, you might not want to wait longer than Apple's WWDC event. Apple still sells the M1 MacBook Air, which is available for great discounts from Amazon and other retailers. The M2 Pros launched a few months ago are also great choices. You can already score savings on some M2 MacBook Pros from third parties.
Upgrading from an Intel-based Mac of any kind is all the more reason to go for one of the existing M-series SoCs. But, again, you might want to wait a couple of weeks. You should see what M2 15-inch MacBook Air has to offer in terms of battery life and price.
I explained recently that the 15-inch MacBook Air version doesn't need the M3 to be an amazing machine. And I'd buy the larger Air right now to get the best of that M2 chip rather than wait at least six months for the M3 version.
As for the M3, the new SoC will be available in late 2023 or early 2024 at best. And that's just Gurman's speculation, not a leak. But the insider says Apple is already working on M3 machines. That includes new "iMacs, high-end and low-end MacBook Pros, and MacBook Airs."
TECH GADGET