Google made a big splash at I/O 2023 earlier this month, removing the waitlist for its ChatGPT AI rival called Bard. The company also made it available in more than 180 countries. What Google conveniently left out of the keynote was a key detail about the markets in which Bard wouldn't be available. China and Hong Kong are two such markets, although they're unsurprising given that Google isn't present in the country.
But the entire European Union can't access Google Bard yet either, at least not officially. Unofficially, you can use a VPN service to bypass the limitations and get your Google Bard chats going.
Why is Google Bard unavailable in the EU?
You have two choices if you're a European Google user and want access to Bard. First is waiting for Google to roll out Bard in your country, which will happen sooner or later. The second is getting a VPN to circumvent the restriction. The latter option will give you access to Bard's generative AI capabilities right away.
The reason Google is avoiding the EU for the time being concerns privacy. Local regulations are a lot tougher on tech companies than they are in other regions like the US. Just look at Meta's record-breaking $1.3 billion Facebook fine.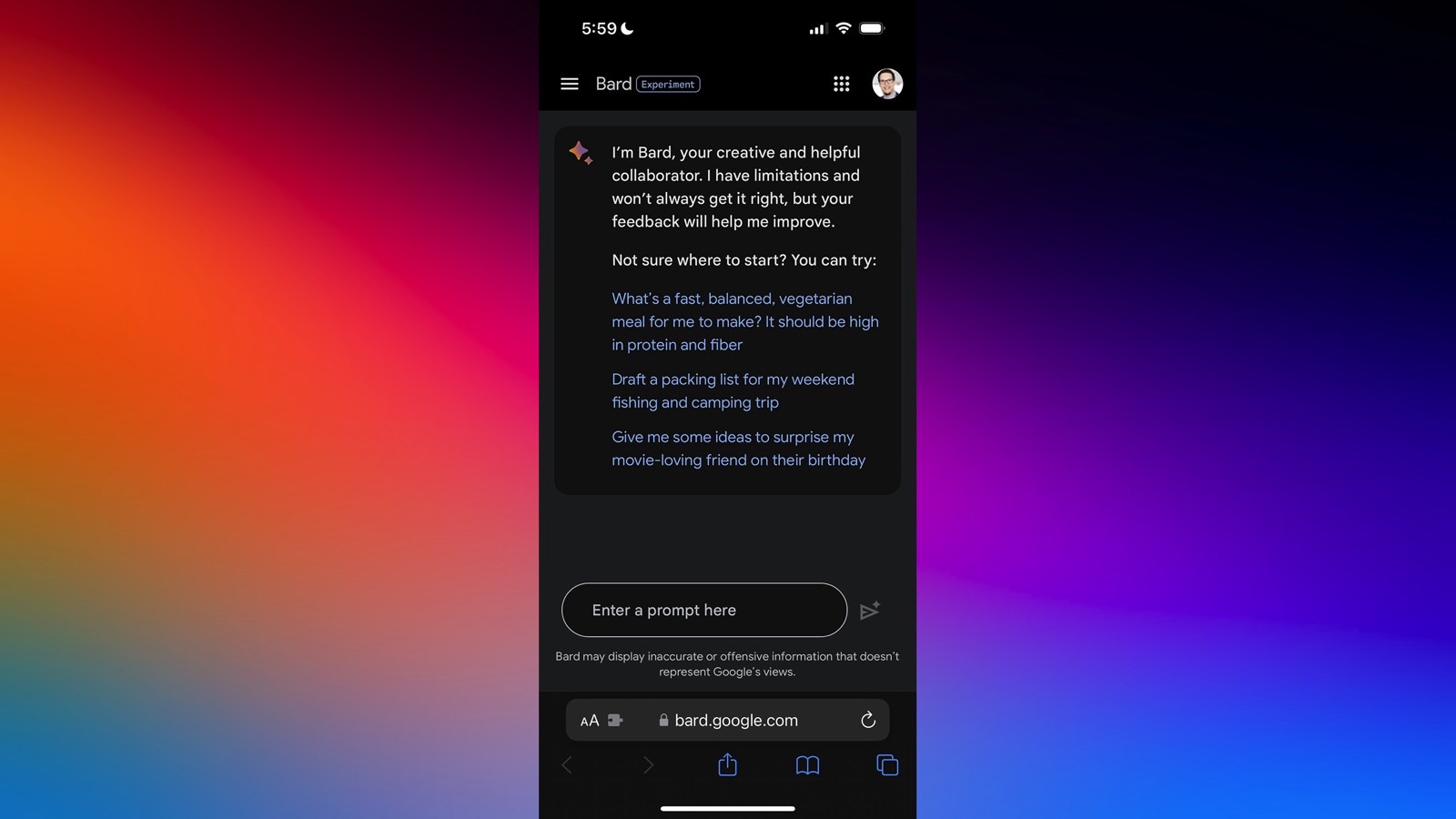 Google Bard Safari page on iPhone. Image source: Zach Epstein, BGR
ChatGPT creator OpenAI has had its own privacy-related incidents in the region, with Italy banning the generative AI product for several weeks. Soon after that, OpenAI implemented a feature that lets users stop their data from reaching the company's servers.
Privacy is a big problem for generative AI services right now. And a tough one to solve, especially if you're Google. The company has had its fair share of privacy-infringing issues it had to fix over the years.
For generative AI to work, it has to gobble up plenty of data to be trained. That might mean both online content and data user input.
Use a VPN service to reach Google Bard from anywhere in the world
If you want to experience Google Bard right now, you have to revert to using a VPN service to pretend you're in a region where Bard is officially available. Using a VPN service for regular internet activity is always a good idea, regardless of generative AI access. You should have a trusted VPN handy, especially when traveling, which might mean paying for a premium VPN service.
Google operates its own VPN service, which is available via Google One. It has some restrictions, too, as the service is operational only in certain markets. But there are plenty of alternatives out there for Google Bard. And it looks like Europeans want to get in on Google Bard action via VPN as soon as possible.
VPN Overview looked at recent "Google Bard VPN" searches, finding a 1,190% increase worldwide after I/O 2023. The top five European countries looking for Google Bard VPN service are Portugal, Switzerland, Norway, Netherlands, and Italy, according to the same source.
The site also analyzed VPN services that can offer access to Google Bard. If you're looking to pay for a premium VPN service, you should ensure it's from a trusted source that handles your data safely.
Another alternative is enabling Private Relay on iPhone, iPad, and Mac devices, which is Apple's VPN-like service that comes bundled with iCloud Plus. The service requires you to use Safari, however. On that note, iPhone users can easily turn Google Bard into a home screen app, and Private Relay will work great with this solution.
TECH GADGET