After smartphones with two displays and strange dual-screen contraptions from laptop vendors, the Telly dual-screen TV above shouldn't be a surprise. But unlike foldable phones and multi-screen laptops, Telly might actually be an interesting proposition. If you don't mind having your data used to serve targeted ads that will display continuously on that second display, you can get a Telly TV for free. This is exactly the kind of deal you make with Google and Meta in exchange for free access to their services.
What is Telly?
The Telly comes from Pluto TV co-founder Ilya Pozin, who told The Verge the new TV set is "the most advanced television ever developed," despite being free.
The Telly TV doesn't have two full TV displays, and it's not your average big-screen TV either. The television set features a regular 55-inch main display that will show the content you want to watch. Telly calls it the Theater Display.
There's a soundbar under the main screen, and then you get the second display. The second screen has a much lower footprint, however. It's called a Smart Screen, and it's more of a horizontal stripe ready to show all sorts of ads while you watch TV.
The Smart Display can also show widgets, which can be a handy tool. It gives you access to weather and stock information, for example. And having sports scores showing on the second screen is also a very useful feature. But some portion of the Smart Display will always show ads.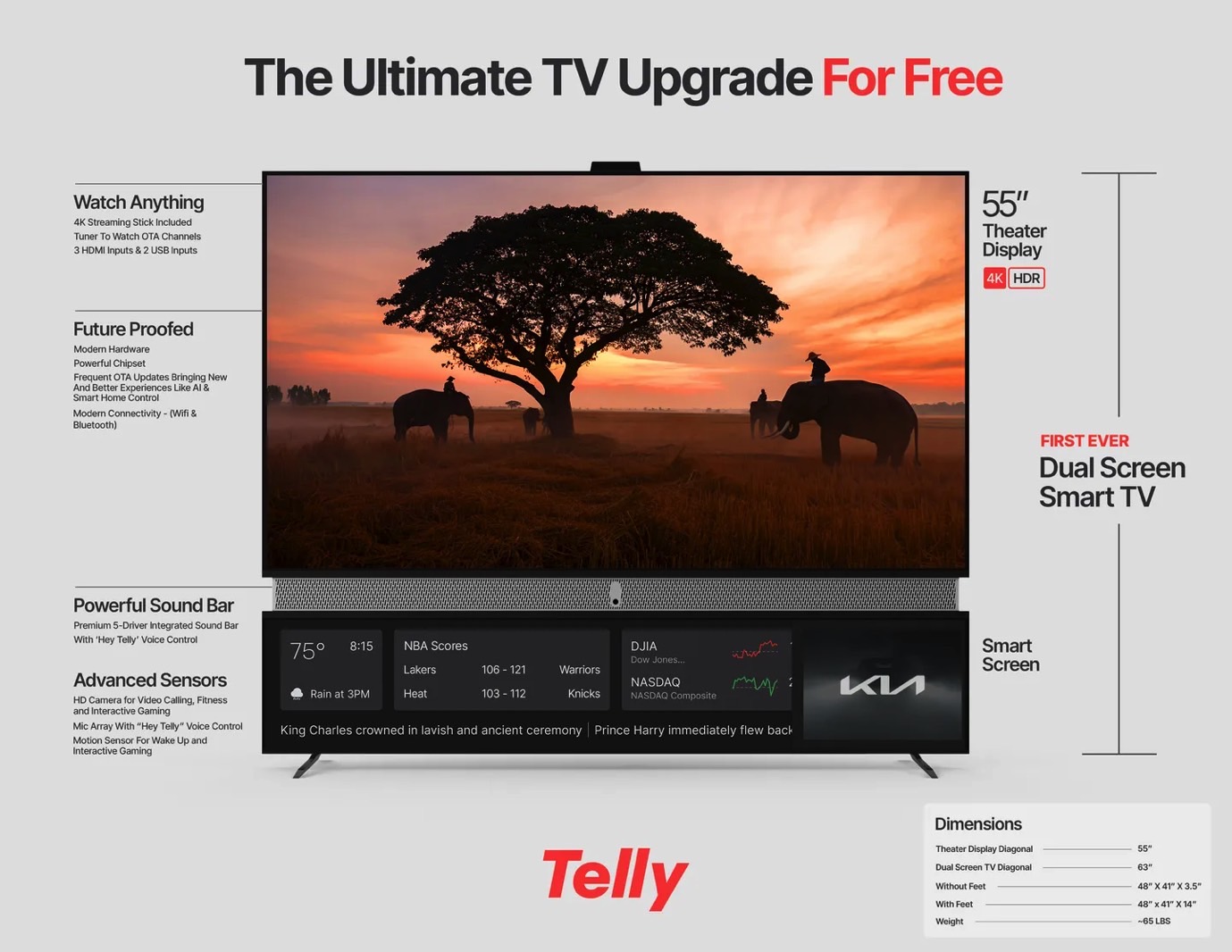 Telly TV specs and features. Image source: Telly
Telly TV specs
That seems an acceptable compromise as long as you're fine with Telly TV using your data for ads. Then again, smart TV brands have been using your data for years, often making the news for not really giving the user much choice on what happens with their data. That's something I always hated about smart TVs. And I'll always go through a smart TV's settings to limit the amount of data sent to the manufacturer.
But Telly could use both screens to show ads when you're not using the main display. That's not great news, but it's something to consider if you want to get one of the Telly TVs for free. Then again, Telly will also give you "Telly Rewards," like gift cards for Netflix or Starbucks, when participating in on-screen polls.
The Telly TV runs the company's proprietary TellyOS operating system, which won't support third-party apps out of the box. But the TV ships with a 4K Android dongle to load any streaming apps you want. You can connect your streaming devices to the TV's various ports (HDMI and USB). Also, the TV features a tuner for over-the-air TV.
Finally, the Telly experience includes 40 built-in games and music streaming support. The OS's built-in AI voice assistant answers "Hey Telly" commands. That's still experimental software, from the sounds of it. But Telly will probably improve the platform if the project takes off.
Since Pozin has plenty of experience from his ad-supported streaming TV service (FAST) endeavor, Telly is certainly a TV product to watch.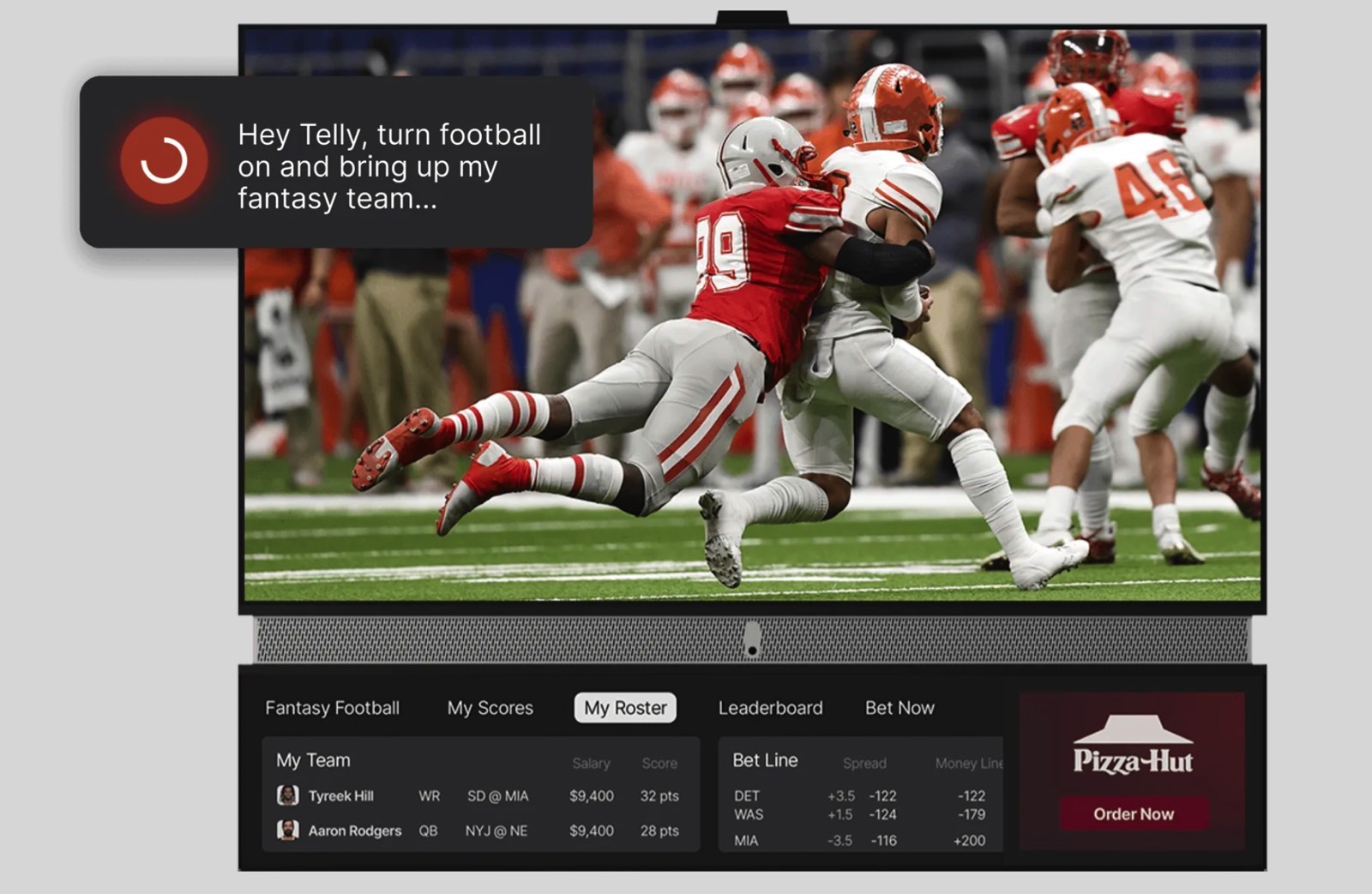 The Telly TV set has its own voice assistant. Image source: Telly
What about privacy?
Finally, a camera in the middle of the soundbar supports Zoom video calls and "free advanced motion-tracking fitness programs." The camera has a physical privacy shutter, so you can ensure the TV isn't watching you all the time.
That said, Telly sounds like a great deal if you have no problem with seeing ads all the time and having some of your data analyzed. On that note, here's what you can expect in terms of ad personalization, according to Telly:
Now, all smart TVs come with ads. But you still pay for the TV. All of that changes today. During the signup process we ask questions about you and your household to optimize your ad experience. Brands in turn, pay for the non-intrusive ad on the Smart Screen. That's how you get Telly free. Plain and simple. It's time you got cut in on the deal.
I'd still be wary of getting a Telly, but that's just me. You can reserve your Telly TV for free right now at this link. You should hurry, too, as the company will only have about 500,000 units initially, which are shipping this summer.
TECH GADGET