When Apple's M1 chip made its debut in November 2020, it not only shook up the Mac, it shook up the whole computer industry, outperforming chips from giants such as Intel (which Apple ditched) and AMD. Those companies have been doing their best to catch up and lo and behold, AMD now claims its latest laptop chip, the 7840U, is faster than Apple's M2.
According to AMD, its new Ryzen 7 7840U shows improvement over the M2 that ranges from 5 percent in web browsing to 75 in the Passmark 10 benchmark tool. (We wonder why it doesn't supply specific numbers or use a more common tool such as Geekbench or Cinebench.) Macworld's sister site, PCWorld, states that the 7840U is meant to be used in lower-power laptops, which is likely why AMD compares its chip to the M2 that is in the MacBook Air and 13-inch MacBook Pro. Apple's M2 Pro and M2 Max in the 14- and 16-inch MacBook Pro are significantly faster than the M2–and almost certainly faster than the 7840U–but those laptops and chips require much more power.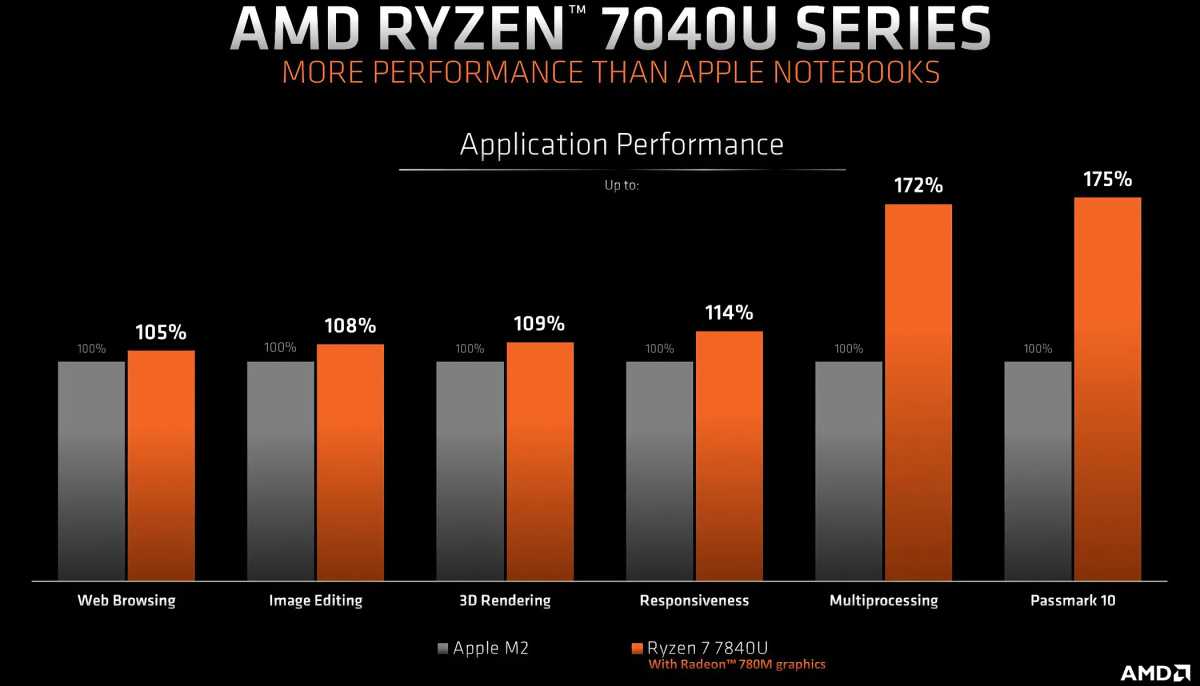 AMD
Speaking of power, how much of it does the 7840U use compared to the M2, which is the king of laptop power efficiency? AMD doesn't specifically say and offers only a vague, "leadership efficiency for exceptional battery life" statement. An AMD rep told The Verge that battery life info will be "forthcoming," which, to the more cynical among us, sounds like AMD didn't want to cloud its announcement with its battery life results. Apple's M2 MacBook Air offers 18 hours of battery life without a fan, and we're pretty sure AMD would be crowing about the 7840U if it offered anything close to that.
Besides, while AMD can enjoy its lead for now, Apple's M3 chip is already in development and could hit the market later this year or in early 2024. It will reportedly be made using a 3nm process, which could lead to a performance improvement that's higher than the 20 percent boost the M2 delivered over the M1, both of which are 5nm chips. The M3 will also lengthen Apple's lead in power efficiency, so AMD and Intel have their work cut out for them.
TECH GADGET