We've all lost pens and pencils before. It's annoying when it happens, but they're easily replaceable, so you don't give it much thought. But losing an Apple Pencil? That's a real pain. Not only is it a specialized, unique utensil—it's costly, too.
A recent patent application by Apple hopes to save users from that aggravation. Patently Apple reports on U.S. patent 20230161545, which describes how acoustic resonators can be used in the Apple Pencil so it can alert a user as to its location.
Finding a lost Pencil could work in the same way a user can use Find My to locate a misplaced iPhone, iPad, or Mac. The user launches the Find My app and goes to the Devices section, and Bluetooth (which is what the Pencil uses to connect to an iPad) would be used to sense the it's proximity. The user can then click on the Pencil in Find My's map and have it play a sound and vibrate.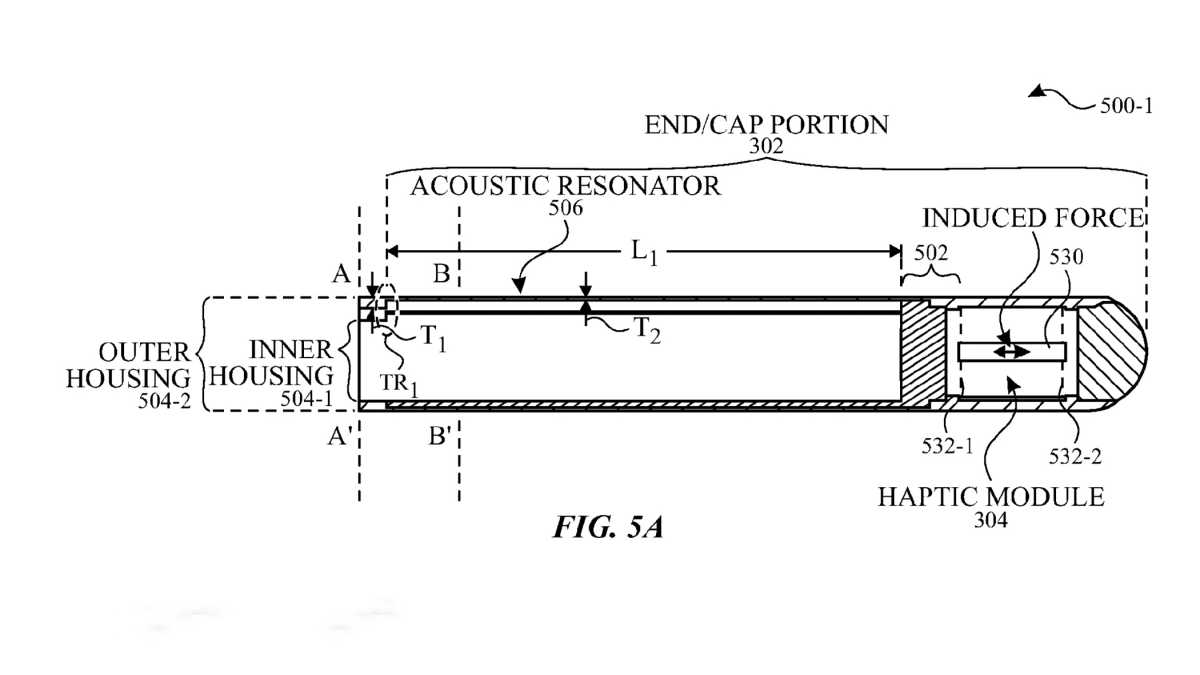 From Apple's patent filing, a diagram of the Apple Pencil acoustic resonator.
Apple
Since the Pencil's design doesn't allow for a speaker, Apple has developed the use of acoustic resonators. According to the patent, the resonators would be located at the top part of the Pencil, underneath the cap that houses the haptic module. "The drive signal generated at the haptic module can be transferred to the acoustic resonators through a path of material that mechanical couples the acoustic resonators to the haptic module."
Apple currently has two versions of the Pencil available, and both the original Pencil and the 2nd-generation Pencil do not have the capability to emit sound. By the looks of Apple's patent, there's no way to add such a feature to those Pencils in software. It requires new hardware and would be a part of a brand-new Pencil the company would release in the future.
TECH GADGET